Student Spotlight: Angela Nankabirwa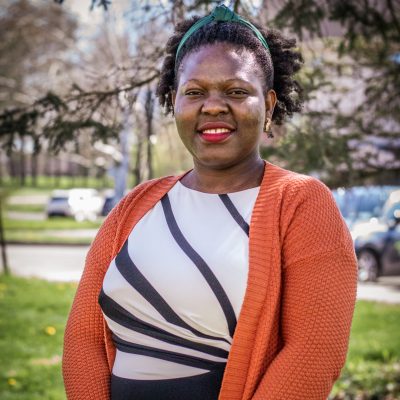 June 6, 2022
Angela Nankabirwa is a doctoral student in ecology and evolutionary biology from Kampala, Uganda. She studies harmful algal blooms and their impacts on fisheries. Nankabirwa is a recipient of the 2022 Africa Fund Fellowship.
What is your area of research and why is it important?
My area of research is algal blooms, fisheries, and impact. An algal bloom is excessive growth of microscopic algae and some bacteria in water. Some blooms depending on the dominant species can be harmful, termed as harmful algal blooms (HABs).
This research is important because the occurrence of HABs is increasing globally in fresh and marine ecosystems. HABs create deoxygenated conditions and produce toxins that can harm aquatic life. Without information on occurrence, duration, and impact of HABs on fish and water environment, we risk having more fish killed. Their occurrence threatens the benefits that water resources provide world over.
What are the larger implications of this research?
While HABs are a natural phenomenon, with increased occurrence the impact caused on aquatic life and people is felt globally. This undermines efforts to the provision of safe and affordable drinking water, especially in areas where quality and quantity are only a dream. Numerous people enjoy the diversity of seafoods. If these foods get exposed to toxins in water, food safety and security will be compromised thus jeopardizing efforts to reduce hunger, and so on. This research will enable us to unearth the extent of occurrence of toxins in water and food, information about which will empower management in handling such and related challenges. Lake Victoria, Africa's largest inland fishery, experiences many stressors in addition to HABs, especially in areas close to highly populated communities. I am glad to be part of the community that is working hard to protect her resources through research.
What does it mean to you to be a recipient of the Africa Fund Fellowship?
I am privileged to be a recipient of the Africa Fund Fellowship. It is an honor to know that people training me recognize the importance of my research interests. It is mostly wonderful that someone out there believes in my capabilities as a graduate student. As an early career African woman in science, this opportunity provides a platform to enhance my research skills and work with state-of-the-art scientists in the field of ecology and evolutionary biology at Cornell University. The fund will allow me a chance to investigate and answer research questions that are pertinent to aquatic ecosystem health. Knowing that I have this support empowers me to work even harder.
What will the fellowship allow you to do that you may not have been able to otherwise?
I do have my first field season on Lake Victoria coming up this summer. The Africa Fund Fellowship will enable me carry out lab analyses for samples that I will have collected and run some interesting HABs experiments during the coming fall semester.
What are your hobbies or interests outside of your research or scholarship?
I like choral music, especially the classical type. My favorite classical pieces are by G.F Handel. I am an alto and part of a number of church choirs.
I like sports. I was introduced to sports at four years old and played a couple at national level. Work/life led me into sticking to volleyball, which I play when I have a chance.
I like to draw imaginative art, mostly water or nature related. This also brings out my passion for water and nature. I enjoy the calmness that comes with looking at waterfalls, gorges, trees in the vicinity of water, and so on.
Why did you choose Cornell to pursue your degree?
Are you kidding me? Cornell has the best ecology and evolutionary biology (EEB) department around. Passion for water, fisheries, and the fact that I could work with Prof. Pete McIntyre, one of the most knowledgeable people I have come across in this field. EEB at Cornell is such an amazing community and I am glad to be a part of it.