Student Spotlight: Annapaola Passerini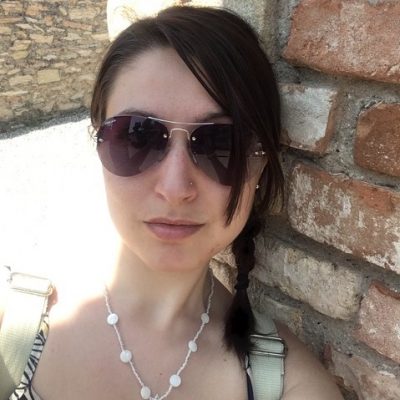 July 8, 2019
Annapaola Passerini is a doctoral candidate in anthropology from Sale Marasino, Italy. After attending Ca' Foscari University of Venice, Italy for her undergraduate work, she chose to attend Cornell for the opportunity to work alongside her advisors while expanding her horizons through participation in an American graduate program.
What is your area of research and why is it important?
My research focuses on the application of scientific dating methods to reconstruct the non-written archaeological past. Chronologies are of special importance to archaeologists because, by providing the 'order' of events, they directly inform our understanding of past socio-cultural dynamics, including technological shifts and crucial moments of social change, especially in the absence of written historical records. My doctoral research seeks to apply the technique of radiocarbon dating to reconstruct the socio-cultural history of the prehistoric Caucasus, an area widely ignored in the prehistory of Eurasia due to its former geopolitical isolation during and after the collapse of the Soviet Union.
What inspired you to choose this field of study?
Having grown up in Italy surrounded by antiquities, I have always been fascinated with the past and its role in shaping our cultural and social identities. During my undergraduate studies, I became particularly intrigued by the non-written past and the potential of archaeology to shed light on otherwise forgotten pages of human prehistory.
Where will you be studying with your Graduate School Research Travel Grant?
I will be spending my summer in the Republic of Armenia, where I will both conduct archaeological fieldwork and will begin the collection of samples for radiocarbon dating for my dissertation.
How important is obtaining a Research Travel Grant for your research?
This Research Travel Grant is extremely important to my research because it will allow me to conduct fieldwork, which is paramount.
What will this grant allow you to do that you might not have otherwise been able to?
In addition to cover my travel expenses, it will allow me to spend a significant amount of time in Armenia and to maximize my summer towards fieldwork and data collection, which are crucial to the development of my dissertation project.
What are your hobbies or interests outside of your research or scholarship?
Outside of research, I enjoy reading fiction, photography, swimming, and running. I also recently took up violin after a long break from musical education.
Why did you choose Cornell to pursue your degree?
I chose Cornell for the people. My advisors have long been involved in archaeological research in the Caucasus as well as scientific dating, and I knew that they could provide me with the best supervision for my doctoral project. In addition, I wanted to expand my horizons by joining an American graduate program, which is giving me the opportunity to explore anthropological theory applied to archaeology and is helping me in shaping an interdisciplinary profile for my future career.