Student Spotlight: Arvid Samuelson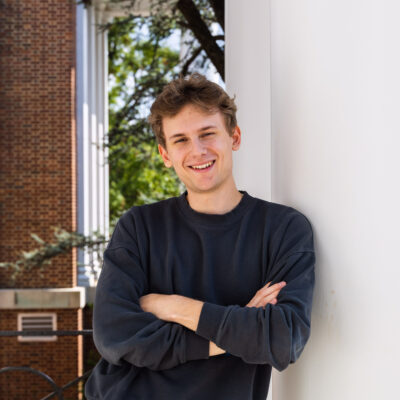 September 5, 2023
Arvid Samuelson is a doctoral student in human development with a concentration in developmental psychology from Roseville, California. He earned his bachelor's degree at the University of California, Santa Cruz and now studies what people see as morally reasonable under the guidance of Audun Dahl at Cornell.
What is your area of research and why is it important?
Broadly, I'm interested in what makes people believe certain people or actions are morally right or wrong. My research investigates contextual circumstances as well as the way we understand the reasoning behind others' decisions. The main question I hope to pursue is what people see as morally reasonable. This is separate from right/wrong, and it has very interesting intersections with rational and emotional decision-making which have both been central in moral psychological research. I approach these questions from a developmental perspective, looking at how these processes develop across time and contexts.
What are the larger implications of this research?
The idea of a reasonable person has been called on frequently in law and philosophy, and as a result, it underpins many of the legal and societal expectations we have of each other. Still, it's a virtue that has been defined more through intuition than concreteness. I hope to provide a clearer picture of this murky concept, and this can in turn influence both legal and social aspects of society.
What does it mean to you to have received an NSF Graduate Research Fellowship?
It's absolutely an honor, and I consider myself incredibly lucky to be chosen. Outside of the practical benefits, it's very encouraging to be chosen. I think a lot of researchers at a similar point in their career can feel unsure of their work. Knowing that the National Science Foundation believes in me and my work is going to spur me on. Honestly, it also feels like a challenge to prove that I am worth that investment, and I'll certainly do my best.
What will your fellowship allow you to do that you may not have been able to otherwise?
The GRF gives me an ideal opportunity to dive right into conducting research here at Cornell. I have also been able to take on more coursework related to the research I am pursuing in this first semester than I otherwise would have. I'm excited to be able to spend more time in the lab with our terrific research assistants as well!
President Pollack has designated this academic year's theme as freedom of expression. What does freedom of expression mean to you?
Freedom of expression ranks very high on my list of things I would want to establish in my ideal world. It's also a chance to learn; being free to express also gives you an opportunity to engage with others on ideas that you or they have presented. To me, that's one of the core components of scholarly work.
What are your hobbies or interests outside of your research or scholarship?
I would definitely consider myself a gamer. I used to compete at the national level during my undergraduate studies, and I can't see myself putting the keyboard and mouse down anytime soon. Outside of that, I love to spend my time in the gym or on a good walk.
Why did you choose Cornell to pursue your degree?
I applied to my advisor when they were working at another institution, but I am certainly happy with how things have ended up. During the interview day, it was so encouraging to see the faculty members be genuinely comfortable with each other and excited to tell us all about their department—I knew it was a good place to be!