Student Spotlight: Daniel Molitor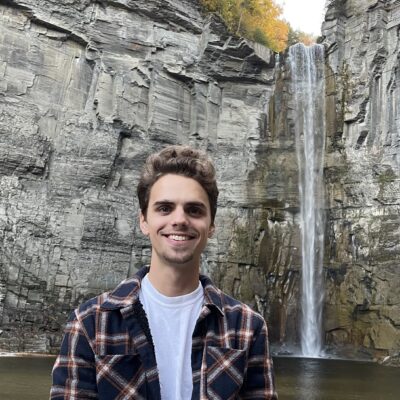 September 5, 2023
Daniel Molitor is a doctoral student in information science from White Bear Lake, Minnesota. He earned his bachelor's degree at Bethel University and now studies how causal inference can be used to evaluate the impact of policies under the guidance of Ian Lundberg at Cornell.
What is your area of research and why is it important?
My research focuses on how we can use causal inference to evaluate the impact of policies and how we can harness computational advances to do better causal inference. This includes developing methods and guidance for practitioners who want to be able to investigate policy impacts themselves. The reason this is important is because people in positions of influence, often seemingly without realizing, frequently make causal claims. These claims are often used to influence important everyday decisions that impact peoples' lives. Being able to carefully evaluate causal claims ensures that we make better, data-driven decisions which will hopefully help improve policies and thus people's lives.
What are the larger implications of this research?
By advancing causal inference techniques and facilitating accessible policy evaluation, my work aims to equip practitioners as well as decision makers with evidence-based tools. This enables the formulation of more effective policies that have a tangible positive impact on communities. Through this endeavor, I strive to elevate the standards of decision-making, advocate for data-driven governance, and play a role in fostering a more equitable and progressive society.
What does it mean to you to have received an NSF Graduate Research Fellowship?
I'm incredibly grateful to have received a NSF Graduate Research Fellowship, especially because it largely reflects an amazing group of individuals that took the time to review, write letters, and generally give advice. I'm super thankful to have these people in my corner (shoutout Koenecke and Lundberg lab folks) and am excited for the research it will allow me to push forward.
What will your fellowship allow you to do that you may not have been able to otherwise?
One of the biggest luxuries that the fellowship affords is the ability to focus solely on research, particularly towards the end of my Ph.D. tenure, without the ties that other forms of funding may bring. Additionally, it shifts some of the funding responsibility from my lab onto the grant, which frees up lab funds for other important needs such as funding new students and research projects.
President Pollack has designated this academic year's theme as freedom of expression. What does freedom of expression mean to you?
Lacking the freedom of expression won't change anybody's mind, rather it will just keep ideas and beliefs internalized. Freedom of expression allows us to share ideas and beliefs, adjust and correct them, and make improvements.
What are your hobbies or interests outside of your research or scholarship?
I love staying active and getting outdoors whenever possible. I really enjoy tennis and am a bit of a baseball nerd. I also love fishing and have recently been on a kayaking kick!
Why did you choose Cornell to pursue your degree?
Studying information science at Cornell gave me the opportunity to be in a program that values both the social sciences and computational sciences per se, instead of viewing one as a means to an end for the other.