Student Spotlight: David Esparza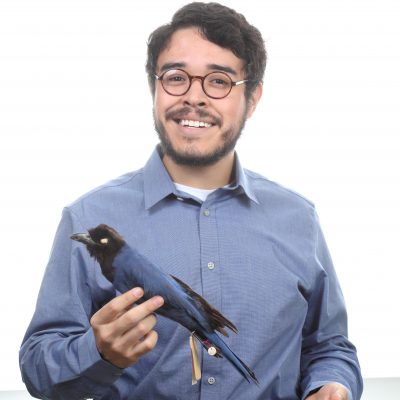 December 6, 2021
David Esparza is a doctoral candidate in ecology and evolutionary biology (EEB) from El Paso, Texas. After attending the University of Texas at El Paso as an undergraduate, he chose to pursue further study at Cornell due to its commitment to evidence-based teaching methods and the EEB field's culture.
What is your area of research and why is it important?
I am a biology education researcher leading projects to understand how students interact, feel, and learn during undergraduate field biology courses – courses where students leave the classroom to learn in, and from, the outdoors. Through analyzing how students interact in these courses, my findings are used to design field courses in a way that improves the learning, development, and persistence of students in biology degree programs.
What are the larger implications of this research?
Minoritized undergraduate students tend to leave STEM programs at higher rates than their non-minoritized peers. Fortunately, recent research shows that undergraduate field courses improve the graduation rates of students who take them – although the reasons why are unclear. My research works to understand the aspects of field courses that promote student persistence to advocate for equity, diversity, and inclusion in science disciplines that require fieldwork.
What does it mean to you to have been awarded an NSF Graduate Research Fellowship?
Receiving the GRF means a lot to me, both personally and professionally. On a personal level, I feel accomplished since I am the first student in my family to pursue a Ph.D. and, thus, the first to receive a GRF. On a professional level, the GRF provides me with the freedom and time to pursue opportunities that further my scholarship and service and allow me to mentor undergraduate students at Cornell.
What will your fellowship allow you to do that you may not have been able to otherwise?
The GRF has been life-changing, and I feel fortunate to have already started participating in research collaborations and service opportunities that I would not have been able to otherwise. Since I received my GRF, I have pursued a local service leadership position with Cornell Diversity Preview Weekend – a program that provides instruction on how to apply to graduate school for minoritized students. I was also recently elected to a national service leadership position in the Discipline-Based Education Research – Scholars in Training (DBER-SiT) organization – a group of scholars that work to support graduate students and postdocs who conduct science education research.
Did you attend any fellowship preparation workshops? If so, how did they help you prepare to apply for and ultimately receive a NSF GRF?
Over the summer of 2020, I attended a virtual workshop offered by The Ebony Tower – an online community and academic thought collective for and by scholars of color. This workshop helped me develop a timeline for writing, gave recommendations on how (and who) to ask for feedback from, and provided me with insight on how to structure my statements in a way that highlighted my strengths. The biggest piece of advice? Read the program solicitation, start early, and be kind to yourself as your draft your statements.
What are your hobbies or interests outside of your research or scholarship?
Outside of research, I like spending time with friends, hiking in nearby natural areas, tending to my many houseplants, and exploring my interests in music, art, and photography.
Why did you choose Cornell to pursue your degree?
I chose Cornell for my Ph.D. because of its commitment to evidence-based teaching methods (such as the University-wide Active Learning Initiative), its continued support of undergraduate field science education, and the friendly culture at Cornell EEB. Field courses are a staple in the undergraduate ecology and natural resources curriculum at Cornell. It is Cornell's support of these that empowers students to learn about the natural world by experiencing it firsthand – and it also provides me with an opportunity to understand the impact of field science education on student learning.