Student Spotlight: Esther Kondo Heller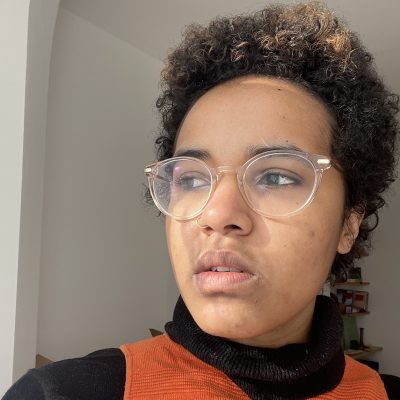 May 9, 2022
Esther Kondo Heller is a master of fine arts student in creative writing with a concentration in poetry. She attended Humboldt University in Berlin, Germany as an undergraduate and now studies how stories, histories, and emotion are expressed using sound, images, and performance.
What is your area of research and why is it important?
In my poetry, I explore how stories/histories are expressed using sound, images, and performance to express emotions and say the unsayable that can not be conveyed otherwise due to various factors such as social structures. A genre that to me best embodies this is East African Taarab music. In Taarab, music is expressed and performed through Mashairi (poetry) that is accompanied by instruments. Each song is fluid, as it can change and expand in meaning with every performance "depending on the images it expresses or the interferences the audience may make from it" (Ntarangwi, 2001). In my research, I want to study the ways that these meanings can reflect possibilities to the fields of poetry, black queer and feminist studies, and black literary sound studies.
What are the larger implications of this research and what is its impact?
I am in particular interested in learning more about the Taarab musician Sitara Bute, who was part of a Taarab group called Diamond Star and a prominent Taarab musician of Mombasa. In all the research and interviews that I found online about her, they stated that she unexpectedly passed away. With this research, I wish to share more of her music and poetry and also share otherwise ways of listening to poetry through Taarab music.
Where will you study with your Graduate School Research Travel Grant?
I will be going to Nairobi to meet with Prof. Ntarangwi who has an archive of interviews that he conducted with Sitara Bute. I will also be going to Mombasa to speak with the founders of hiistoriya and Pwani Tribune which are both platforms that are doing work to preserve and promote the culture and history of the East African coast.
How important is obtaining a Research Travel Grant for your research, particularly in light of the precautions necessitated by the pandemic?
The research grant is very important for me, as it makes it possible for me to do this research. I tried to read up as much as I could on Sitara Bute online but there was not much available. That is when I contacted Prof. Ntarangwi who is based in Nairobi. Prof. Ntarangwi does not have the interviews with Sitara Bute digitized so he could not send me anything but he said that he is very happy that someone is showing interest after so many years and hoped that I will come and visit him someday to take a look at the documents. This is when I knew that I would have to go to Nairobi, which has been made possible through this grant.
What will this grant allow you to do that you might not have otherwise been able to?
I would not have been able to travel to Kenya without this grant. The grant takes away the biggest cost which is travel, therefore making it possible for me to save and put money aside for other costs such as accommodation and planning the interviews.
What are your hobbies or interests outside of your research or scholarship?
I love music and co-host a monthly radio show with my friend Zen called Poetic Healing with Zen and Kondo that airs on THFradio Berlin every last Sunday of the month.
Why did you choose Cornell to pursue your degree?
I chose Cornell because the poetry faculty is incredible! Having the opportunity to learn from Prof. Lyrae Van Clief-Stefanon and Prof. Ishion Hutchinson is a dream come true. I was also drawn to the size of the cohort as the program only accepts four students in a year, which means that there is very close attention and care given to poems in the workshop. Also, Cornell has been a place where magnificent scholars such as Toni Morrison, Christina Sharpe, Tina Campt, and many more have studied, which is very inspiring!