Student Spotlight: Ethan Duvall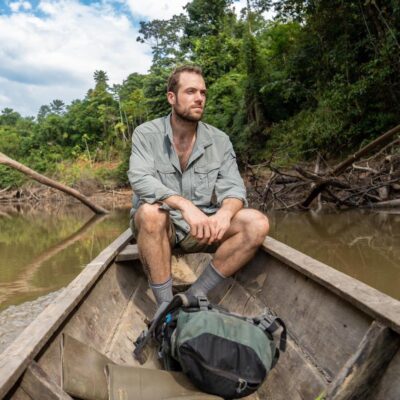 May 8, 2023
Ethan Duvall is a doctoral candidate in ecology and evolutionary biology from North Bend, Washington state. He attended Western Washington University in Bellingham, Washington, and now studies how wildlife populations respond to human impacts on ecosystems under the guidance of Alex Flecker at Cornell.
What is your area of research and why is it important?
Broadly speaking, I am interested in understanding how wildlife populations (particularly birds and mammals) respond to human impacts on ecosystems, and, in turn, how wildlife responses affect the ecosystems themselves. My research has focused on a diverse set of topics, from impacts of dams in the Pacific Northwest, to oil extraction and hunting on ecosystem sustainability in the Amazon rainforest.
What are the larger implications of this research?
Humans and the natural world have become inseparable. To understand how we can effectively manage, conserve, or restore ecosystems, it is imperative that we understand the links between biodiversity and ecosystem functioning. The goal of my research is to provide knowledge that can be used to inform the conservation and sustainability of ecosystems and wildlife populations together.
You were lead author on a study finding a new, mutually beneficial relationship between bald eagles and farmers in Washington state developed due to climate change. What do you imagine are the larger implications of the study?
The study gives me hope that, moving forward, farmers, managers, and conservationists can think more critically about how to maximize benefits for people and wildlife in the spaces they share. This mutualistic relationship between bald eagles and dairy farmers contrasts a long history of conflict between farmers and apex-predators. The story is a refreshing outcome; however, not all apex-predators are so fortunate, and not all agricultural landscapes are the same. The removal of apex-predators is still pervasive in agricultural landscapes. Hopefully, we can continue to work towards solutions and conflict in these settings.
This research has been picked up by additional news sources. How do you feel knowing your research is making such an impact?
It is exciting to see the research communicated to a broad audience. However, it would be an over-statement to say that it has had a large or direct "impact" at this point. We highlighted the unique interaction and discussed its relevance. Real impact will stem from increased collaboration between farmers and wildlife managers, discussion of mitigation strategies for human-wildlife conflict on farms, and actions to reduce adverse impacts of climate change.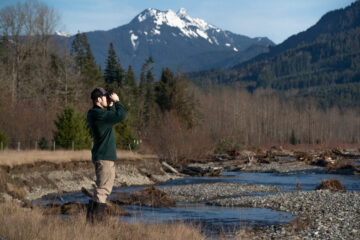 How did you get involved with this research and what drew you to it?
I began studying overwintering bald eagles when I was an undergraduate student in Washington state. I became fascinated by the massive eagle congregations on rivers and their relationship with the salmon. I had just come to the realization that I wanted to be an ecologist, so I decided to pursue independent research. As I read the literature and spent time in the field, I became more and more invested in understanding how bald eagle populations have changed and adapted in the Pacific Northwest.
What are your hobbies or interests outside of your research or scholarship?
I love being outdoors and looking for wildlife, playing the guitar, writing, practicing Spanish, riding my bike, playing sports, drinking beer, and spending time with my wonderful partner.
Why did you choose Cornell to pursue your degree?
I chose to pursue my degree at Cornell University because of its incredibly strong ecology program, connection to the Cornell Lab of Ornithology, and financial support.