Student Spotlight: Felicia Setiono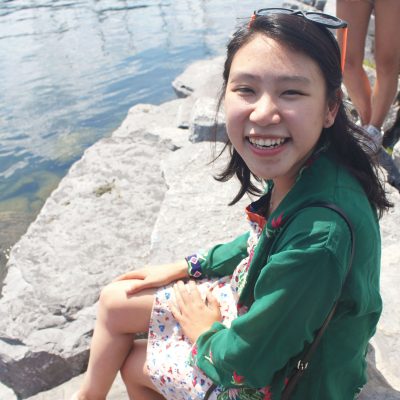 March 2, 2020
Felicia Setiono is a doctoral student in nutrition from Jakarta, Indonesia. After earning a bachelor's degree in biological sciences with a global health minor at Cornell, she chose to return for further study due to the research opportunities, faculty, and other graduate students.
What is your area of research and why is it important?
My main area of research focuses on understanding the social and environmental factors that contribute to a population's dietary behaviors and, consequently, health outcomes. Specifically, I'm interested in how food availability and access in a community affect the health of a population, especially those coming from low-income households. I want to utilize mapping tools to characterize food sources, i.e. supermarkets and corner or convenience stores, in an area as well as further analyze how the structure of these food sources are associated with the well-being of the people living by and/or utilizing those food sources.
What are the larger implications of this research?
Many of the most prevalent chronic diseases in the U.S., such as obesity, are diet related. However, programs targeting these conditions are producing mixed results, partly because these conditions are complex and require concurrent solutions. By further understanding the external factors that may affect people's dietary choices, we would also be able to better develop interventions that are effective and relevant to improving people's health. I also believe that population-wide data and maps can be transformed as policy tools. For example, stakeholders may use these data to prioritize programs in specific geographical areas or sub-populations.
What inspired you to choose this field of study?
Coming from Indonesia, I've always been interested in the linkages between agriculture, food, and health. As I delved deeper into the field of nutrition, I learned about the health disparities that exist between groups of populations, which led to a greater understanding that dietary-related diseases are immensely complex problems; working in nutrition means that I must also work through issues of poverty, equity, justice, and understanding the structural factors contributing to disparities in dietary behaviors and health outcomes. I then began to feel strongly about working with populations that are disproportionately carrying the burdens for health conditions such as obesity.
Can you speak about your work with the Office of Engagement Initiatives (OEI)?
During the winter break of 2020, I received funds from Engaged Cornell to visit New York City (NYC) where our research projects are located. One of the projects that I'm involved in is the Advanced Cooking Education Program, a nutrition and culinary science-based after school program for middle school students. In NYC, I visited our partner middle schools to further plan out the implementation of the after-school program. Our goal is to soon pilot the program before carrying out a multi-year analyses on the effectiveness of the after-school program on dietary and health outcomes of culturally diverse youth.
What will this support allow you to do that you might not have otherwise been able to?
Through these funds I was able to continue engaging with our community partners. I was also able to visit City Harvest, a food rescue organization in NYC. I got to hear about some of their current work in the corner stores and visit some of the corner stores they were working with. These experiences gave me a better understanding of the current food environment and landscape in NYC. The information and experiences are valuable to me as I seek to focus my future research and dissertation work on the food retail and distribution network in NYC.
What are your hobbies or interests outside of your research or scholarship?
I always say that I'm a foodie before I'm a nutritionist. I love experimenting with cooking and baking, both by myself and with others. I joke with others that I'm going to open up my own bakery and coffee shop one day. Other things that I really enjoy include listening to true crime podcasts, watching movies, and going on hikes. I also spend the majority of my free time meeting up with and mentoring other students.
Why did you choose Cornell to pursue your degree?
After graduating from my MSPH degree, I worked with my current PI, Dr. Tashara Leak, as a project manager for one year. During that time, I realized that I really enjoyed research and would love for it to be my career. I chose Cornell ultimately because I can be involved in research that emphasizes alleviating health disparity. I also got to meet many faculty members and graduate students in the department who I was excited to continue engaging with. But of course, Cornell is also near and dear to my heart since it's where I got my undergraduate degree!