Student Spotlight: Gustavo Alvarez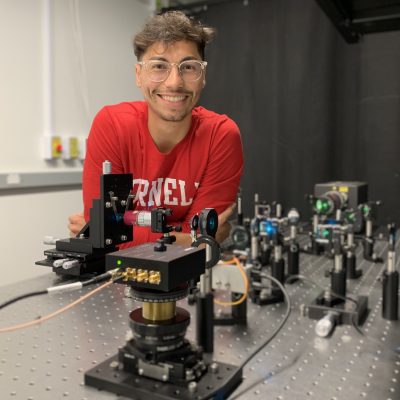 November 15, 2021
Gustavo Alvarez is a doctoral student in mechanical engineering from San Bernardino, California. After attending UC Berkeley as an undergraduate, he chose to pursue further study at Cornell after attending a diversity weekend in Ithaca during high school and being introduced to the faculty and research.
What is your area of research and why is it important?
Is it not just baffling that a calculator or even a USB charger of the present day has more computing power than the best computers used to send astronauts to the moon? As our technology gets smaller and more powerful, processing much faster and larger datasets, one of our greatest limitations is removing heat from the materials that make our technology function. I use continuous wave lasers to study heat transfer of semiconductors at the nanoscale. I also work at the Cornell High Energy Synchrotron Source to study interesting phenomena in single crystals, such as charge density waves in topological insulators, and I work with Argonne National Laboratory to measure phonons, quanta of lattice vibrations, of interesting materials.
What are the larger implications of this research?
The data I acquire helps guide material design and possible advances in ultraviolet photonics, high-power electronics, and microelectromechanical systems. This means that we are discovering new material combinations which can survive high temperatures and harsh environments, such as space probes making observations of the outer corona of the sun. My research focus on thermal management can also improve the power production of photovoltaic modules (solar cells), since heat can potentially reduce output efficiency by 10-25% and move us toward a greener production of energy.
What does it mean to you to be a Dean's Scholar?
Being a Dean's Scholar means that I know there is someone looking after me who cares about my academic success and about me holistically. It's a community that not only strives to survive the graduate experience but also thrive. As co-chair of the Multicultural Academic Council Peer Mentoring Program, I can see first-hand how knowledgeable and supportive Dean's Scholars are as mentors. This community connects me with the ins, outs, and unwritten rules about Cornell, which are essential to successfully work in this environment.
What are you most looking forward to in regards to being a Dean's Scholar?
I can say without a doubt what I am looking forward to the most are the in-person dinners and community building activities, since COVID has put a pin in a lot of the personal interactions. It will be great to connect with the new class of Dean's Scholars as well as those senior members and learn from their past experiences and wealth of knowledge.
What are your hobbies or interests outside of your research or scholarship?
I am a huge movie buff! My wife and I purchased the Regal unlimited pass and watch movies at least once a week (huge Marvel fans, so we are looking forward to phase four and five of their productions). Love hiking and waterfalls with a personal favorite of Buttermilk Falls. The only thing that can keep me sane in the winter is skiing at Greek Peak Mountain Resort (I'm from California, so not seeing the sun year-round is a bit difficult).
Why did you choose Cornell to pursue your degree?
When I was in high school, I participated in Cornell's diversity weekend. I was enthralled by the rigor of the research and the prestige of the faculty. I fell in love with the campus, with seeing waterfalls streaming and weaving their way through campus, and found my favorite spot right outside of the clock tower, overlooking the lake right at sunset. I vowed to return to Cornell for higher education!