Student Spotlight: Hongrui Wang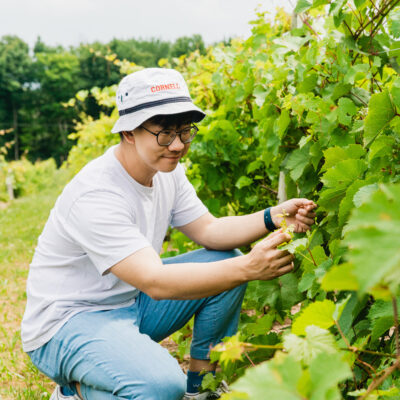 November 17, 2023
Hongrui Wang is a doctoral candidate in horticulture from Tangshan, China. He earned his master's degree in horticulture and crop science at The Ohio State University and now studies grapevines' responses to cold weather with a focus on AI technology incorporation under the guidance of Jason Londo and Bruce Reisch at Cornell.
What is your area of research and why is it important?
My research is about understanding grapevines' response to cold weather, but with a focus on incorporating AI technologies to develop novel practical tools. As climate change intensifies, unexpected cold events more frequently threaten vineyards. AI helps us predict, quantify, and even mitigate these threats through analyzing vast amounts of data on grapevine and weather interaction in real-time. This isn't just about understanding plants, it's about introducing and leveraging modern technology to safeguard the current and future grape and wine production and industry livelihoods.
What are the larger implications of this research?
A part of my research resulted in an automated grapevine freezing tolerance prediction model. The model enables the development of the first real-time grapevine freezing tolerance monitoring system in North America and the quantification of climate change impact on dormant season viticulture globally. Another part of my research incorporates using transcriptomics to decipher the genetic control of cold response in grapevines, which might serve as the basis for the development of climate-adaptive cultivars or vineyards management practices.
What does it mean to you to have been selected for the Bruce Reisch 1976 Graduate Fellowship in Grapevine Improvement?
To me, being awarded the Bruce Reisch 1976 Graduate Fellowship in Grapevine Improvement is a blend of gratitude, commitment, and the drive to innovate for the future of viticulture. It shows recognition of my contribution to grapevine research that aligns with the legacy of Dr. Bruce Reisch. This fellowship offers invaluable support, which motivates my research and emphasizes the importance of grapevine improvement under climate change. Other than its financial assistance towards my degree, it's also a testament to the potential seen in my work and a motivator to continue making impactful contributions.
What will this fellowship allow you to do that you might not have been able to otherwise?
The most important aspect of the fellowship is that it allows me to develop research projects based on my interest and my understanding of research gaps with the aim to improve the sustainability of grape industry. These interest-oriented projects not only yielded several publications, but also further stimulated my passion about sharing my research with others. So far, I have already published three peer-reviewed papers, developed two websites, and generated one online database with the guidance of my advisers. I also received the Best Viticulture Oral Presentation Award at the 2023 ASEV National Conference. It's clear that the backing from the fellowship has been pivotal for these academic achievements.
President Pollack has designated this academic year's theme as freedom of expression. What does freedom of expression mean to you?
To me, freedom of expression represents the right to articulate one's ideas, convictions, and insights fearlessly. At an academic institution like Cornell, it means the cultivation of a space where varied perspectives are encouraged, examined, and disseminated openly. As a Ph.D. student, this freedom empowers me to investigate and share results, like my research papers from 2023, even if they counter established beliefs. Ultimately, freedom of expression fuels creativity, advancement, and a dynamic scholarly community.
What are your hobbies or interests outside of your research or scholarship?
Outside my research, I am a rock 'n roll lover, and I like to go to the live shows of different bands. I also like to explore nature with my partner and our two dogs.
Why did you choose Cornell to pursue your degree?
I chose Cornell for my Ph.D. for its global reputation in the research of plant science and the chance to work with renowned scholars like Dr. Jason Londo and Dr. Bruce Reisch. The university's advanced facilities, combined with its location in the Finger Lakes wine region, offers both cutting-edge research opportunities and practical applications. Additionally, Cornell's collaborative environment promised a rich exchange of ideas, bridging novel technologies with traditional industries, making it an ideal fit for my aspirations in grapevine research.