Student Spotlight: Joshua Garcia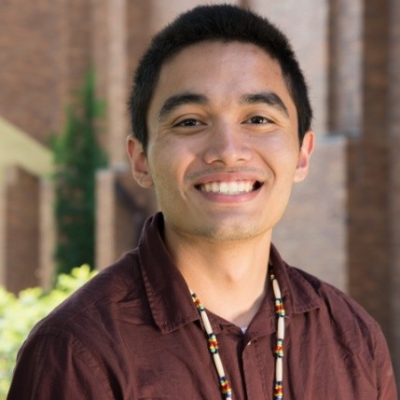 April 11, 2022
Joshua Garcia is a doctoral candidate in horticulture from Phoenix, Arizona. He attended the University of California, Davis as an undergraduate and now studies how microbial consortia in agricultural soils influence horticultural crop traits. Garcia is a 2022 Bouchet Scholar.
What is your area of research and why is it important?
Microorganisms that live in soils have a tremendous impact on the crops we grow, but they're often overlooked in agricultural research. In my work, I examine how microbial consortia in agricultural soils influence horticultural crop traits. More specifically, I study plant-growth promoting microbial consortia and the beneficial effects they can have on crops. What sort of plant traits can these groups of microbes alter? Through what mechanisms do they alter these traits? What are the implications for agricultural production? These are the types of questions I hope to address through my work.
What are the larger implications of this research and what is its impact?
Studying interactions between plants and microbes that live in soils could be highly useful in developing more sustainable agricultural management practices. For example, in one of my projects we used plant RNA sequencing to assess what the effect of microbial consortia from vermicomposts is on tomato growth and development. Our RNA sequencing showed these consortia promoted the expression of nutrient transporter genes and disease resistance genes in tomatoes. This suggests microbial consortia found in vermicompost may confer multiple fitness advantages to tomato plants, which could be useful for tomato production.
What does it mean to you to be a Bouchet Scholar?
To be a Bouchet Scholar means to be part of a community who cares about promoting inclusion and equity at the university and elsewhere. It's a great privilege to be connected with people who care about the same issues I do and who are doing such amazing things to promote inclusion and equity in multiple spaces.
How do you exemplify the five pillars of the Bouchet Society – character, leadership, advocacy, scholarship and service?
My goal as a scholar of multiple marginalized identities is to not only produce high quality research, but to also use my privileges to promote equity in higher education and beyond. On campus, I've been involved with a number of equity efforts through groups such as the SIPS DEI Council, Cornell Center for Teaching Innovation, and the Latinx Graduate Student Coalition. Off campus, I'm involved with local BIPOC-led community organizations such as No Mas Lagrimas, where we offer a variety of programs and services to the Ithaca community.
What are your hobbies or interests outside of your research or scholarship?
I really love reading. Two of my favorite authors are Hanif Abdurraqib and Octavia Butler (I've read all of their books!). Being in Ithaca has also gotten me into different outdoor activities and sports, like kayaking and ice skating. Video games have also become one of my favorite destressors as I write my dissertation. Some of my favorite series are Animal Crossing, Pokemon, and Kingdom Hearts.
Why did you choose Cornell to pursue your degree?
When I came to interview I was really excited by the range of research being done in the field of horticulture. It's been so fun and engaging being in a department where people are doing such diverse and cool work. It has definitely helped me broaden my horizons as a scientist and it's been great being in a department where everyone is so passionate about agriculture. I also enjoyed how friendly everyone was and their enthusiasm for the type of work I wanted to do as a Ph.D. student. Being from the west I was also excited to get the experience of living in a region that's different from what I'm used to.