Student Spotlight: Karla García-Martínez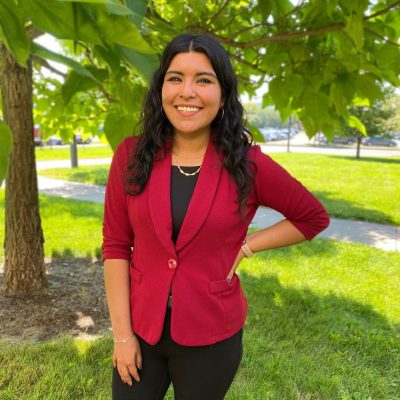 August 23, 2021 — Updated April 10, 2023
Karla García-Martínez is a doctoral candidate in biomedical and biological sciences (BBS) with a concentration in immunology and infectious diseases from the Tijuana/San Diego border region between Mexico and the United States. After attending the University of California, Berkeley as an undergraduate, she decided to pursue further study at Cornell under the guidance of Cynthia Leifer due to the BBS program's academic standing, resources, and diverse student population.
What is your area of research and why is it important?
I study how our immune system detects and responds to infection. I focus on macrophages, which are a type of immune cell that expresses molecules called Toll-Like Receptors, or TLRs for short. These TLRs detect pieces of microbes or damaged tissues and are critical for activating other immune cells and ultimately protecting us from infection. I want to understand how these TLRs are regulated and how they relay signals to give rise to protective immune responses.
What are the larger implications of this research?
My research is important for human health because if we know how TLRs and macrophages alert the body to infection, we can improve activity of vaccines or develop new ways to treat infectious diseases. On the flip side, understanding how cells regulate TLR signals is also important because when TLRs are not regulated properly their signaling gives rise to chronic inflammation, autoimmune diseases, or cancer. Ultimately, I hope my research will lead to new immunomodulators and immunotherapeutics for a variety of human diseases.
What does it mean to you to have received an HHMI Gilliam Fellowship?
It is a huge honor to receive the HHMI Gilliam Fellowship. This fellowship will support my research, my academic success, and will allow me to develop programming to foster a more diverse and inclusive scientific environment here at Cornell. To me, this means that the Gilliam team not only believed in my academic abilities, but also in my ability to create programs to empower and support students of diverse backgrounds and have an impact on our scientific community at Cornell and beyond.
What will this fellowship allow you and your mentor to do?
The Gilliam Fellowship will allow my mentor, Dr. Leifer, and me to create programs and plan events that will improve mental health of graduate students whose communities were disproportionately affected by the COVID-19 pandemic. We will partner with the BBS diversity and inclusion council to provide group counseling with licensed professionals for students and awareness programs for PIs. We are also planning workshops and programs raise awareness about D&I related topics and provide resources to faculty to promote a more inclusive environment at Cornell. Dr. Leifer and I will also directly benefit as part of the Gilliam community. Dr. Leifer will attend training monthly mentoring meetings where she will learn more about for culturally responsive mentorship training and best practices to address challenges to diversity and inclusion in graduate school. For me, I get become part of the talented and supportive Gilliam Fellows community. I will gain leadership and professional development skills and build a valuable network of amazing scientists. Both Dr. Leifer and I will then be able to bring our new information and skills back to benefit the Cornell community.
What does it mean to you to be a Bouchet Scholar?
Being selected as a Bouchet Scholar is a huge honor. This means that the Bouchet Society agrees that I embody the five pillars of the society, that I exemplify academic and personal excellence, and that I help foster environments of support. I'm excited that my efforts for diversity and inclusion are being recognized beyond the community at Cornell. The induction to the society will also give me access to multiple resources, including a network of other scholars who are invested in leadership and advocacy.
How do you exemplify the five pillars of the Bouchet Society—character, leadership, advocacy, scholarship, and service?
Growing up in an underserved and neglected community made me develop my character as a resourceful, empathetic, hardworking, skillful, and dependable person. As a graduate student, I made it my mission to advocate for students from underrepresented backgrounds and help them reach, navigate, and thrive in academia. I advocate for students from underrepresented backgrounds through leadership and service. I've held multiple leadership positions, like being an active member of the BBS D&I council and one of the coordinators of the Thriving Series at Cornell. I also served as a graduate student ambassador for Cornell and the BBS program and I recruited students at SACNAS and ABRCMS. In 2021, my mentor and I were awarded the HHMI Gilliam Fellowship as recognition of my scholarship and our outstanding D&I efforts. We used HHMI sponsored D&I funds to provide free group counseling for graduate students to help them manage their mental health.
What are your hobbies or interests outside of your research and scholarship?
In my free time, and when the weather is nice, I like to go on long walks with my friends and explore scenic hiking trails around Ithaca. Recently, I've been trying to engage in activities that I wouldn't normally partake in, like windsurfing. I also enjoy playing with makeup and skincare products and trying on new makeup looks.
Why did you choose Cornell to pursue your degree?
When I visited the BBS program and Cornell, I was immediately impressed by both the program's academic standing and resources and their diverse student population. BBS showed me that they were invested in success of their students, and I felt like I could build a supportive network for my Ph.D. career here at Cornell.