Student Spotlight: Kelsie Doty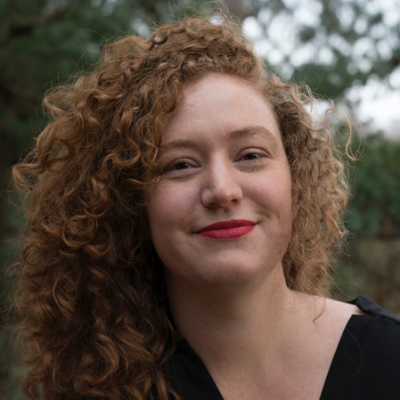 April 22, 2019
Kelsie Doty is a doctoral candidate in fiber science and apparel design from Burns, Kansas. After earning bachelor's and master's degrees in apparel design from Kansas State University, she chose to further her studies by attending Cornell.
What is your area of research and why is it important?
For my dissertation, I'm focused on the use of plant- and insect-based textile dyes in the United States apparel supply chain. Sustainability and biodegradability are often cited as primary reasons for using natural dyes, but these ideas can be complicated by various factors such as sustainable harvesting and use. By understanding a part of the current context surrounding natural dyes, we can better understand best practices for their use.
What inspired you to choose this field of study?
I love clothes! I love their unintended/intended meanings and ability to transform the wearer. In my field, I'm able to combine qualitative and quantitative research with creative design and use one to inform the other. It's exciting to be able to use your own creative apparel design work to generate questions and then use different research methods to better understand the medium.
Where will you be studying with your Graduate School Research Travel Grant?
Funds from my Cornell Graduate Research Travel Grant are being used to visit natural dyers in Los Angeles, San Francisco, and Portland. My research includes filming interviews with textile companies, fashion designers, plant growers, dye chemists, etc., and documenting the use of natural dyes within the apparel and textile industry. I'm using the film from interviews and events to create a documentary alongside my dissertation work. Feel free to follow my research travels on Instagram.
How important is obtaining a Research Travel Grant for your research?
This travel is critical to the completion of my dissertation research and allows me to capture important voices and viewpoints on why and how natural colorants are currently being used in the United States apparel supply chain. The West Coast, in particular, has some of the most well-known voices on natural dye use and I'm excited to be able spend time in their production studios and dye gardens.
What will this grant allow you to do that you might not have otherwise been able to?
Without this funding, my research would have only focused on the eastern United States. This grant allows me to travel to the west coast and document important interviews. (Which is why I'm very grateful for this grant from the Graduate School!).
What are your hobbies or interests outside of your research or scholarship?
Believe it or not, my hobbies are completely textile-based: sewing, using natural dyes, weaving, hand-spinning yarn, knitting. If it's based in making textiles or fashion, I want to learn how to do it. Aside from my usual night knitting, I'm also a mother of two little boys that keep my partner and me very busy.
Why did you choose Cornell to pursue your degree?
Cornell has one of the most well-respected graduate degree programs in the field of apparel design. More importantly, however, a professor from the program really believed in my research and encouraged me to come to Cornell. Finding the right mentor, one who was excited to work with me, was the most important factor when it came to choosing a Ph.D. program.