Student Spotlight: Patrick Cummins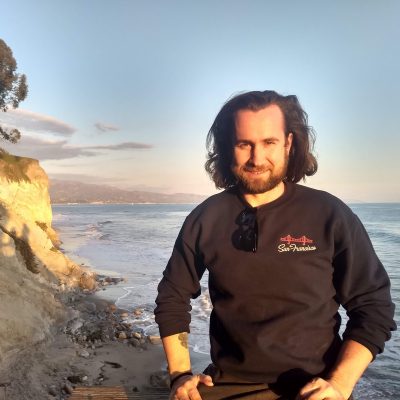 July 17, 2020
Patrick Cummins is a doctoral student in Asian literature, religion, and culture from the Credit River area, Mississauga, Canada. After earning his bachelor's and master's degrees from the University of Toronto, he chose to pursue further study at Cornell for his advisor and the doctoral program in his field.
What is your area of research and why is it important?
The short answer is Sanskrit studies. More specifically, my work lies somewhere between intellectual history and philosophy. The unifying theme of my research is philosophy of language in premodern South Asia. This has taken me on a journey through other domains of the Sanskrit corpus on language theory such as poetics, grammar, and hermeneutics (principles of textual interpretation).
What are the larger implications of this research?
The intellectual output of premodern South Asia rivals that of premodern Europe, in both quantity and quality. However, the study of South Asian philosophy lags far behind. For example, the way an English language speaker can access countless studies on ancient Greek philosophy or continental philosophy, even the most basic resources don't exist for South Asian philosophy. Similarly, if I were to name-drop Kumārila or Gaṅgeśa, they wouldn't click for you as names of major philosophical figures in the way the names Aristotle or Kant might. These are good indicators of both the state of the field and the scope for current research.
What inspired you to choose this field of study?
I found my way to Sanskrit from linguistics as a freshman in Toronto. The more I read, the more I fell in love. It's like a video game: You can navigate an exciting new world from the comfort of your couch. But unlike a video game, there aren't millions of players, you're blazing your own trail. The Sanskrit corpus is this vast but deeply understudied record of one of humanity's richest premodern intellectual cultures. It was a passion for my own knowledge that initially inspired me, but now it's a passion for advancing our knowledge that continues to drive me.
What were your research plans before the pandemic and how did you pivot to accommodate the current circumstances while still making degree progress?
My summer plans prior to the pandemic involved research travel to manuscript libraries in India and workshops in Vienna and Toronto, which have all been cancelled. With that being said, I am very lucky: Many philosophical treatises in Sanskrit have been published as print editions, but remain untranslated and understudied. I can still do some research from the safety of my home. I'm on track to take my A exams in August 2020.
How important is it to be flexible in this situation?
Research flexibility came easily enough, but on other frontiers I had tough choices, both financial and personal. Family obligations require me to reside in Canada this summer, but Canada's 14-day isolation policy upon entry prevents easily crossing back and forth. My partner and I are stuck on opposite sides of the U.S.-Canada border. One further twist is that my mother is 70 and at higher risk of COVID-19 complications, so I can't reside at her home.
I've also taught through the pandemic. I've had the pleasure to teach elementary, intermediate, and advanced Sanskrit as course instructor over the past few years at Cornell. This semester was particularly challenging for my students with the transition to online learning amidst the global pandemic, but I'm very proud of how they adapted to the circumstances and how much they achieved despite the difficulties they faced. It's been a privilege to help my students in such challenging times. How we rise with the changing tides is a testimony to who we are, both as people and as a university community.
What are your hobbies or interests outside of your research or scholarship?
I love sailing. I've spent a lot of time sailing on Cayuga Lake. I enjoy cooking too. To be honest, these past few years my main focus outside my work has really been just spending time with my family. At one point, I was fluent in Marathi (an Indian vernacular), but it's probably somewhat rusty now.
Why did you choose Cornell to pursue your degree?
The reason I chose Cornell University was my advisor, Professor Lawrence J. McCrea. He spends an astonishing amount of time in the classroom with his students. Professor McCrea deserves huge recognition for all the off-the-books work he does. To be honest, Cornell was the only university I applied to for doctoral studies. I knew what I wanted and I felt confident of my odds.