Student Spotlight: Sai Pratyush Akula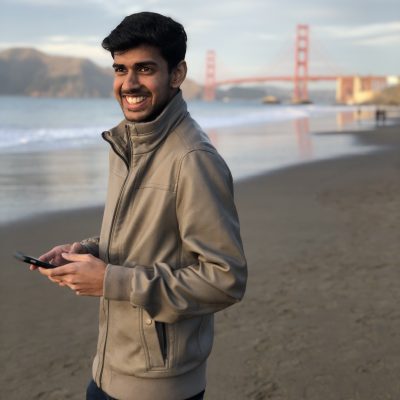 May 9, 2022
Sai Pratyush Akula is a master's student in mechanical engineering from Hyderabad, India. He attended Birla Institute of Technology and Science, Pilani in India as an undergraduate and now studies the additive manufacturing of biodegradable implants.
What is your area of research and why is it important?
My area of research is additive manufacturing of biodegradable implants. Simply put, it is leveraging the 3D printing technology to design implants that would degrade in a human body and hence prevent the need for replacement or removal in the future. Additive manufacturing provides us with some unique capabilities that conventional manufacturing techniques like casting don't, which are pivotal to my research. The eventual goal is to be able to tune the degradation rate to adjust it as per the specific bone that needs reinforcing.
What are the larger implications of this research and what is its impact?
This project is intended to tackle the common issues that exist with the current state of the art human implants – implant loosening, necessity for secondary (or even tertiary) surgeries to replace or remove the existing implant in the body, growth inhibition in infants. There have been research efforts carried out to tackle the implant loosening issue, but according to us, having a biodegradable implant is the only way to curb the requirement of additional surgeries. The eventual goal of having tunable degradation rates would help us design not just patient specific designs, but also have bone specific properties for the implant. I strongly believe this could revolutionize the current health care systems in place.
Where did you study with your Graduate School Research Travel Grant?
The Graduate School Research Travel Grant was used to perform experiments at the synchrotron source present at the Argonne National Laboratory called the Advanced Photon Source (APS). The experiments conducted here give us crucial insights into the fundamental process physics related to the material system I am currently working with.
How important was obtaining a Research Travel Grant for your research, particularly in light of the precautions necessitated by the pandemic?
The materials I am working with are pretty unique and having a basic understanding would help us optimize the process of material development. The equipment we need for this study is only available at the APS, and having the grant enabled us to get there in person and perform the necessary experiments.
What did this grant allow you to do that you might not have otherwise been able to?
As mentioned above, the specific equipment needed for these fundamental studies are unique to APS. This equipment helps us image the additive manufacturing (3D printing) process while it is happening (in situ). Doing so, we can get a lot of insights into what is happening as we try to print these said materials (high energy X-rays are used for such studies) which we normally cannot see.
What are your hobbies or interests outside of your research or scholarship?
Apart from my research, I am an active member of the badminton club at Cornell. During my leisure time I often read a lot of sci-fi and fantasy novels (a huge fan of Brandon Sanderson). If and when I have time to spare, I play a bit of guitar too. Apart from these activities, I am a very outdoorsy person who loves biking, hiking, and can do a bit of ice skating and skiing, too.
Why did you choose Cornell to pursue your degree?
I chose Cornell for my graduate studies owing to its research infrastructure. I take a particular interest in materials research and Cornell has numerous facilities to support that kind of research – CHESS, CCMR, and CNF. These facilities combined with the excellent faculty working in different domains of research made Cornell an ideal choice for me.