Student Spotlight: Sara Miller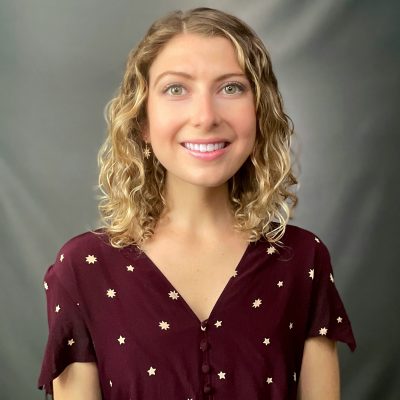 September 26, 2022
Sara Miller is a doctoral student in geological sciences from San Diego, California. She attended the Georgia Institute of Technology as an undergraduate and now studies oceans that exist on planetary bodies using numerical modeling.
What is your area of research or scholarship and why is it important?
I use numerical modeling to study oceans that exist on planetary bodies across our solar system, called "ocean worlds". Ocean worlds are key targets for space exploration in the search for life beyond Earth. The bulk of my graduate research is focused on Jupiter's moon, Europa, which has a salty, liquid water ocean underneath a global ice shell. I adapt numerical frameworks and tools developed for Earth's ocean to the Europa environment to explore how ocean processes affect material transport and investigate the ocean world's habitability.
What are the larger implications of this research or scholarship?
On Earth, we know that ocean dynamics play a critical role in the transport of heat, salt, and nutrients that support our ocean's biosphere. While Europa is a promising target for space exploration, its thick ice shell and sparse data make it challenging to directly observe the dynamics of its ocean. Thus, my graduate work using numerical modeling as a window into the physical processes that act on Europa and other ocean worlds supports the search for life beyond Earth.
What does it mean to you to have received a 2022 Zonta Amelia Earhart Fellowship?
I am honored to be included in a diverse, international cohort of women who share my passion for aerospace engineering and space sciences. Amelia Earhart Fellows have gone on to become astronauts, professors, business owners, and influential government officials. While I am of course grateful for the financial support the Amelia Earhart Fellowship provides, I am just as excited to be connected with this network of powerful women.
What will this fellowship allow you to do that you might not have been able to otherwise?
The financial support provided by the Amelia Earhart Fellowship enables me to focus more of my time and energy on my research by removing the need to juggle a teaching assistantship or other secondary job. In addition, receiving an Amelia Earhart Fellowship has reinforced my decision to pursue a Ph.D. in planetary science. I am humbled to receive this award and inspired by the women across the globe who have done the same.
What are your hobbies or interests outside of your research or scholarship?
I love being outdoors and am passionate about running. Endurance running is a welcome balance to the time I spend in front of a computer screen for my graduate research. What's more, training for marathons has enabled me to explore the gorgeous Finger Lakes region and experience the beauty of the natural lands surrounding Cornell's campus. I am also able to share my love of running as an assistant coach for the Ithaca Youth Bureau's track and field program in the summer and the cross country program in the fall.
Why did you choose Cornell to pursue your degree?
In addition to the university's rich history in space sciences, Cornell is the alma mater of the inspirational planetary scientist who first sparked my interest in the field. My first exposure to planetary science was through taking a planetary physics course to fulfill a science elective requirement for my master's degree in aerospace engineering at Georgia Tech. The planetary physics course was taught by Dr. James Wray, an alum of Cornell. Professor Wray encouraged me to pursue my passion for planetary science and introduced me to my Ph.D. advisor at Cornell, Dr. Britney Schmidt.