Student Spotlight: Stephanie Rich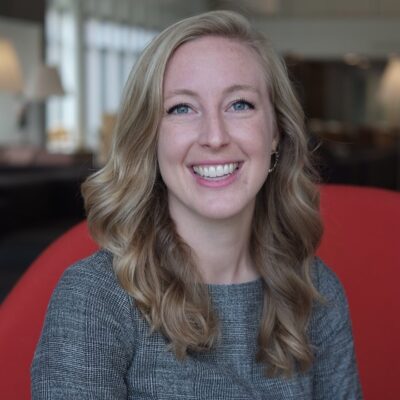 July 17, 2023
Stephanie Rich is a doctoral candidate in civil and environmental engineering with a concentration in environmental processes from Roseburg, Oregon. She earned her B.S. from Oregon State University and M.S. from Karlsruhe Institute of Technology/Swiss Federal Institute of Aquatic Science and Technology and now studies wastewater treatment plant processes under the guidance of Damian Helbling at Cornell.
What is your area of research and why is it important?
I work in the field of environmental chemistry, specifically with monitoring for emerging chemical contaminants in wastewater treatment plants. Chemicals from human activity that are released into natural water systems can cause extreme environmental and public health problems such as mass fish die-offs or exposure-linked cancer in humans. My work aims to reduce harmful chemical contamination in the environment by studying wastewater treatment plant processes and the fate of emerging contaminants in traditional treatment processes.
What are the larger implications of this research?
One part of solving environmental pollution is to prevent future emissions of persistent and biologically active chemicals into aquatic environments. My research focuses on preventing these emissions by studying what makes chemicals like pharmaceuticals, personal care products, pesticides, and industrial chemicals biodegradable in wastewater treatment plants. This information helps to improve wastewater treatment plant design and environmental persistence screening during the development of new chemical products. This will eventually lead to healthier societies and a cleaner environment.
What lessons did you take away from participating in the Colman Inclusive Leadership Program and how will they benefit you going forward?
My favorite part of the Colman Inclusive Leadership Program was the opportunity to be open and honest with a group of 30 of my peers about issues surrounding leadership styles in professional environments. Many of the instructors and participants provided insightful ways to improve current academic leadership styles and shared honest experiences of what it feels like to be marginalized in a system that is historically exclusive. The personal testimonies shared during the program resonated with me, and I will draw on them to be a more empathetic leader in my career. I will also continue striving to create a sense of belonging in my workplace by asking for frequent feedback and giving myself grace when things don't go according to plan.
Why do you believe it is important to develop leadership skills?
Leadership is part of science, and learning how to successfully manage people is just as important as learning a proper analytical technique in the lab. The ability to create an inclusive and collaborative workplace is a valuable skill that opens new possibilities for better science and improved well-being for everyone. Developing leadership skills is a lifelong process, and opportunities like the Colman Inclusive Leadership Program provide a space to actively improve these skills in a safe and welcoming environment.
What are your hobbies or interests outside of your research or scholarship?
I love going to TGIF at the Big Red Barn on Fridays, distance running, and volunteering at the Ithaca Sciencenter. I also enjoy going to the Alley Cat Café downtown on the weekends!
Why did you choose Cornell to pursue your degree?
I became fascinated with reducing chemical pollution in the environment during my undergraduate and master's studies, and my advisor Damian Helbling is a leading expert in environmental analytical chemistry. This was a perfect match for my research interests, and I love that Ithaca is surrounded by gorges!