August Offers Mentoring Advice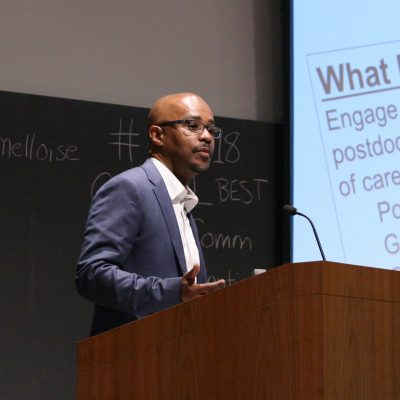 By Katya Hrichak
Research shows that students with strong mentoring relationships leave graduate school more satisfied with their programs, more involved in professional organizations, and with a more developed professional identity than those who do not, according to an American Psychological Association article. So when graduate students face conflicts with their mentors, it can make navigating their programs and next steps even more challenging.
During the third lecture in the Maximizing Your Mentoring series on Feb. 15, Professor of Immunology and Vice Provost for Academic Affairs Avery August, Ph.D. '94 gave students and postdocs advice for remedying conflict in the form of four steps: acknowledge, diagnose, prepare, converse.
"We all have had tricky conversations. […] Conflict is unavoidable, it will happen," he said. "But conflict is also an opportunity to start to resolve [an issue]."
The first step, according to August, is to acknowledge that conflict exists. In step two, students diagnose the source of the conflict, including whether it is driven by a difference in power, culture, gender, expectations, etc.
The multi-parted third step, preparing for the conversation, contains several steps: deciding whether the conversation is necessary, identifying any assumptions you hold about others, what you hope to take away from the conversation, and your own personal triggers – what makes it hard for you to hear another person. August reminded the audience that it is okay to pause a conversation if it becomes too overwhelming to continue.
Although self-analysis is important, he reinforced that the most important part of preparation is pinpointing the intended outcome of the conversation.
"Many, many times […], we don't prepare. We sort of wing it," he said. "You have to know what you want to accomplish by having a conversation […] Sometimes we know what the conflict is, we know who the conflict is with, but we don't quite understand what we would like to accomplish in having that conversation."
After identifying a goal, August advised students to figure out exactly how to begin this conversation and recommended practicing with a friend.
"Remember that conflict is not always a bad thing," he said. "[Initiating that conversation means] at least you're both clear as to what your understanding of the situation is and that's a path towards looking forward. In other words, it's better to have the conversation than not."
Multicultural Academic Council (MAC) co-chair and plant biology doctoral candidate Elena Michel said that in organizing the Maximizing Your Mentoring Series, MAC aimed to provide graduate students and postdocs with mentoring knowledge they might be seeking or not know to look for.
"It can be tough to learn exactly what type of mentoring you want or need during your time [as a graduate student or postdoc], or how to find mentoring outside of major advisors," she said. "We hoped by organizing this series, we could help begin conversations around the topic of mentoring, and how important mentors can be to one's success."
The Maximizing Your Mentoring series is a collaborative effort of MAC and the Graduate School Office of Inclusion and Student Engagement. The final session, "Essential Skills for Becoming a Good Mentor," will be held March 28. Visit the MAC website for more information.
Katya Hrichak is a communications assistant in the Graduate School.