Cornell GPSA Hosts Ivy+ Summit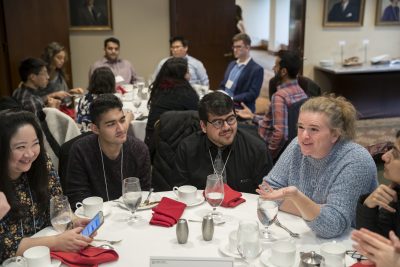 By Katya Hrichak
Mutual respect in a trusting environment between student leaders and administrators was one of the themes at this year's Ivy+ Graduate Student Leader's Summit on Oct. 26-28. The event, organized by the Graduate and Professional Student Assembly (GPSA), invited student leaders from 10 research institutions to Cornell for discussions about improving the graduate student experience.
"Cornell's GPSA has always been very proud of our good working relations with the administration. We wanted to showcase this by featuring administrators heavily in our events," said GPSA President and linguistics doctoral student Ekarina Winarto.
At Saturday's keynote address in the Statler Hotel, Graduate School Dean Barbara A. Knuth described the importance of fostering positive relationships between university administrators and graduate student leaders.
"Positive and productive student-administration relationships are part of the foundation of a high-performing institution, and it takes effort to build and maintain those relationships," she said. "Several characteristics that help foster these productive relationships are shared vision and mission, mutual trust, mutual information-sharing, mutual access, and mutual respect."
Illustrating the outcome of these positive relationships, Knuth discussed the Graduate and Professional Community Initiative (GPCI). Created by the GPSA, the GPCI is a five-year strategic plan that identifies and addresses issues as they relate to graduate and professional student life.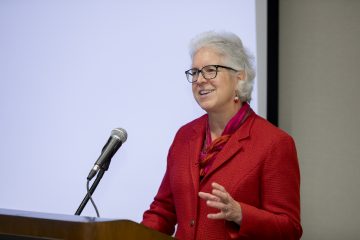 According to Knuth, this strategic plan relied on "trust, information-sharing, and respect" to help work through the differences between student and administrator views and create a working document that has been used to improve many aspects of graduate student life, including a revised parental accommodation policy and enhanced child care grant program, career programming for future faculty and a diversity of careers in the private and public sectors, increased counseling and sexual violence prevention, and academic and writing support programs.
After the address, administrators from the Graduate School, Student and Campus Life, and other campus partners facilitated small group discussions on graduate student life topics ranging from campus mental health services and housing to student funding and transparency.
Sarah Joseph, a doctoral student and Graduate Council member from Columbia University, remarked on the "unique opportunity" to learn how another school's administration approaches working with graduate student leaders. "Having assistant deans sitting at tables and discussing issues directly with students has not actually been done at an Ivy+ Summit before. It's extremely helpful," Joseph said.
For Alastair Tulloch, a doctoral student and Graduate Student Council president from Brown University, the best part of the Summit was listening to other institutions' best practices in order to implement them at a home institution.
"One good example specifically from Cornell is this five-year plan [GPCI] that they have," he said. "Looking at that and using that back at Brown is going to be something we will be doing. Without coming to the Summit and really hearing about it, we wouldn't have been able do it in the first place."
2018 Summit participants included Brown University, Columbia University, Cornell University, Dartmouth College, Harvard University, Massachusetts Institute of Technology, Princeton University, University of Chicago, University of Pennsylvania, and Yale University.
Katya Hrichak is a communications assistant in the Graduate School.