Eleven Doctoral Candidates Lobby on Capitol Hill
April 10, 2023
By Katya Hrichak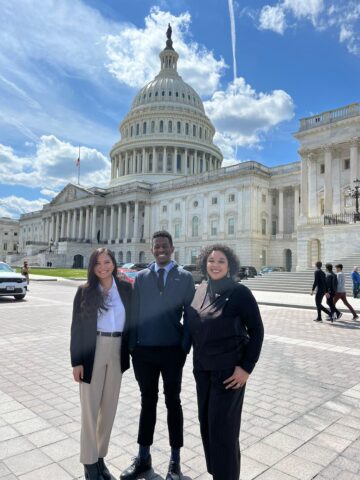 Eleven doctoral candidates traveled from the Ithaca campus and Weill Cornell Graduate School of Medicine in New York City to Capitol Hill for the annual Cornell Ph.D. Student Advocacy Day on March 29.
Students engaged in more than 20 meetings with members of Congress and their staffs to discuss how federal funding impacted their ability to access graduate education and advance their doctoral research. Cornell graduate students also joined peers from Stony Brook University, University at Buffalo, and Cold Spring Harbor Laboratory for joint meetings with staff members from Senators Kirsten Gillibrand and Chuck Schumer's offices.
"Having the chance to communicate directly with individuals instrumental in crafting legislation provided me with a unique platform to advocate for research funding, empowering me to make an impact by potentially influencing the allocation of resources," said Joshua Jones, a doctoral candidate in biomedical and biological sciences.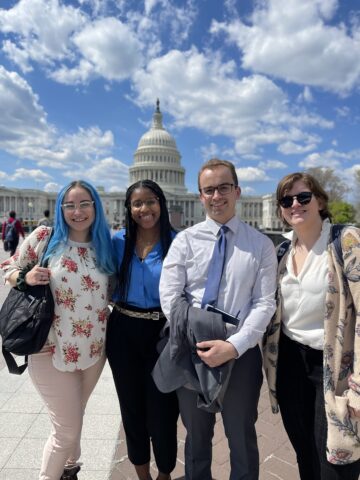 Three Graduate School doctoral candidates and one Weill Cornell student who participated in Advocacy Day were also selected to attend the American Association for the Advancement of Science Catalyzing Advocacy in Science and Engineering (AAAS CASE) Workshop March 26–29 in Washington. There, the students learned more about communicating and advocating as scientists, the inner workings of Congress and roles of staffers, and the policy work of federal agencies.
"This was a great opportunity to advocate for science funding and, for me, it was important to envision other career paths that I had no idea were possibilities," said Drea Darby, a doctoral candidate in entomology who attended both Advocacy Day and the AAAS CASE workshop.
Nutrition doctoral candidate Reah Chiong, who also participated in both Advocacy Day and the AAAS CASE workshop, received federal funding for research in both her undergraduate and graduate programs, but still felt a disconnect between her work and the higher-level decisions that impacted her funding.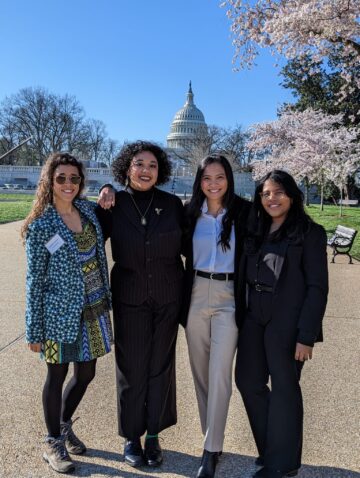 "I always thought that policy in a broader sense was too distant and too large to grasp," she said. "It was not until this opportunity where I got the chance to walk down the halls of congressional buildings and engage with legislative staff and fellows that translating science to policy became possible."
During the workshop, students learned about the federal budget process, the structure of Congress, the policymaking process, and effective communication of science and research to policymakers.
Many staff and members of Congress encouraged the students to continue their advocacy and explore post-graduate opportunities like the AAAS Science and Technology Policy Fellowships.
"I am beyond grateful for this opportunity," said Chiong.
Advocacy Day was co-organized by the Office of Federal Relations and the Graduate School Office of Inclusion and Student Engagement and was co-sponsored by the Graduate School's Careers Beyond Academia.