Fellowship workshops aid student success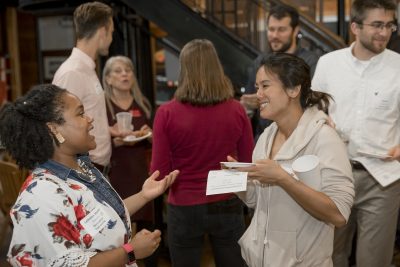 By Katya Hrichak
New and current awardees of the National Science Foundation's (NSF) Graduate Research Fellowships (GRFP) gathered at the Big Red Barn for a reception on Oct. 3. This year's group of new NSF GRFP recipients consisted of 36 students, adding to the more than 200 NSF GRFP participants already on campus.
Each year, the NSF offers 2,000 fellowship awards to more than 12,000 applicants, providing recipients with three years of financial support within a five-year fellowship period. Each year since 2012, the Graduate School has offered workshops to help students interested in applying for these fellowships.
"Our students are very competitive in national fellowship competitions, such as the NSF GRFP," said Jan Allen, associate dean for academic and student affairs. "The Graduate School provides workshops, technical information sessions, and review and consultation sessions to help students prepare and submit these very competitive applications."
This year, the Graduate School held two workshops, two panels, a webinar viewing session, and eight days of peer review and consultation, totaling roughly 50 hours of programming.
Jason Chang, a doctoral student in biomedical engineering, found the extra support offered by the 2017 workshops beneficial when looking to write and submit his proposal. He has since received an NSF GRFP fellowship.
"As a new Ph.D. student at the time who had applied for the NSF GRFP that previous year, I had decided to reapply during my first year rather than my second. I participated in the NSF GRFP information session/workshop to get advice and hear perspectives from successful applicants at Cornell," Chang said. "The feedback I received helped ease a lot of my hesitations about reapplying during my first year. I found the experience to be very validating in that regard."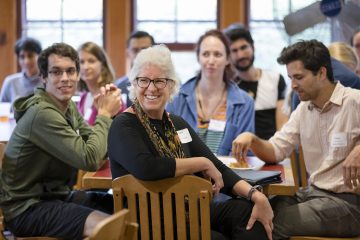 Lisa Watkins, Ph.D. candidate in biological and environmental engineering, expressed similar thoughts on the workshops she attended prior to receiving her fellowship.
"When I was preparing to apply for a GRFP, going to the Grad School-sponsored fellowship workshops was definitely a boost to my application progress and a big help as I figured out how to focus my proposal," she said. "It was by listening to the fellowship winners in a panel discussion and reflecting on the experiences they shared that I started to see how I, too, could weave my story and interests into a strong application."
After receiving an NSF GRF, fellows become eligible to apply for the Graduate Research Opportunities Worldwide (GROW) Program and the Graduate Research Internship Program (GRIP), fellowships offered only to prior GRF recipients.
The Graduate School is hosting information sessions with GRIP and GROW fellows to share tips and advice with NSF fellows interested in pursuing these additional funding opportunities.
Having recently returned from studying in the Netherlands, made possible by her GROW fellowship, and having previously experienced the value of these workshops, Watkins is preparing to speak at one of these sessions.
"I'm looking forward to the chance to share my experience as a GROW applicant and fellow at this Graduate School event because I want other Cornell graduate students to have a chance at this same experience," said Watkins. "There really is no substitute for the global perspective."
"We take pride in the efforts and achievements of our students," said Barbara A. Knuth, dean of the Graduate School. "Our role is to support them and provide resources and programs to aid in their success."
The Graduate School will continue to offer programming in future years to encourage and assist fellowship seekers and recipients on campus. Although 2018 workshops have concluded, resources are available for students interested in pursuing funding, including successful applications available for review in 350 Caldwell Hall and the following digital resources:
Fellowship Workshop Information
UCLA GRAPES Fellowship Database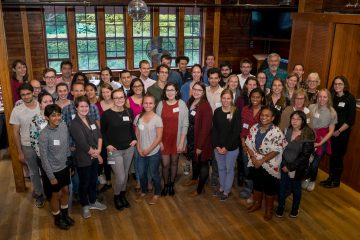 Katya Hrichak is a communications assistant in the Graduate School.