Five Inducted into Bouchet Graduate Honor Society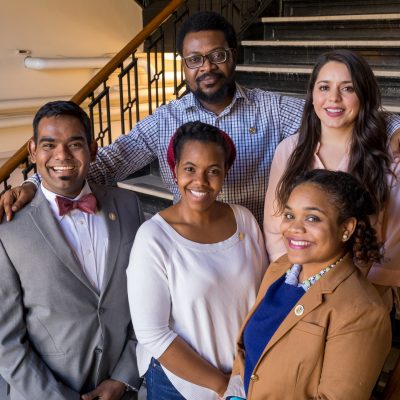 By Katya Hrichak
Five Cornell doctoral candidates have been inducted into the Cornell chapter of the Edward A. Bouchet Graduate Honor Society.
The Bouchet Society recognizes outstanding scholarly achievement and promotes diversity and excellence in doctoral education and the professoriate. Its network of scholars exemplifies academic and personal excellence, character, service and advocacy for students who traditionally have been underrepresented in the academy.
Cornell's 2019 Bouchet scholars are:
Elaigwu Ameh, performing and media arts: Ameh conducts research that intersects theater for social change, human displacement, black studies, gender mainstreaming and performance theory to give voice to those who are underrepresented.
Lory Henderson, microbiology: Henderson's research centers on understanding the causes of contamination by L. monocytogenes in the dairy industry, and how changes in processing can prevent potential health issues and fatalities caused by contaminated dairy products.
Marysol Luna, mechanical engineering: Luna's research focuses on understanding how alterations to the gut microbiome interact with physical forces to result in the development of osteoarthritis, and influence the mechanical performance and material properties of bone.
Aravind Natarajan, microbiology: Natarajan's research focuses on engineering E. coli for the cost-effective production of therapeutic glycoproteins used to alleviate thalassemia, leukemia and malaria.
Monet Roberts, biomedical engineering: Roberts' research bridges engineering and medicine, and focuses on understanding the role of glycocalyx in the biogenesis of cancer-derived microvesicles.
"This year's five inductees embody the qualities of Edward A. Bouchet and actively exemplify the principles of character, leadership, advocacy, scholarship and service," said Sara Xayarath Hernández, associate dean for inclusion and student engagement in the Graduate School. "These students are now part of a larger network of scholars who continuously carry the Bouchet Society's principles throughout their academic and professional lives."
The fellows were inducted at the annual Yale Bouchet Conference on Diversity and Graduate Education held April 5-7 at Yale University.
For Ameh and Roberts, being able to share their dissertation research with Bouchet conference attendees was a great way to network with other scholars and hear about the ways in which others are internalizing the qualities of a Bouchet scholar.
"Being a Bouchet scholar is embracing the vocation to serve humanity better and to create a better world for all, irrespective of our existential affiliations," said Ameh. "It's about a call to empathetic action driven by an unapologetic pursuit of the common good."
"We all aspire to be the giants whose shoulders others can stand upon and, with this new network of movers and shakers, we can leverage our connections to get closer to that goal day by day," said Roberts.
Yale and Howard universities established the Bouchet Society in 2005 to recognize the life and academic contributions of Edward Alexander Bouchet, the first African-American to receive a doctorate from a U.S. university. He earned his degree in physics from Yale in 1876. Outside of the society's founding universities, Cornell was among the earliest universities to establish a chapter of the Bouchet Society, inducting its first members in 2006.
Katya Hrichak is a communications assistant in the Graduate School.
This story also appeared in the Cornell Chronicle.