Future Professors Prepare to Improve Academia for All
July 26, 2021
By Katya Hrichak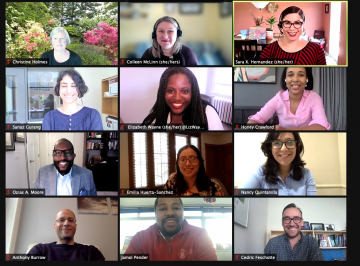 "At the time I began my master's, I knew I was on the autism spectrum, but I did not have an official diagnosis," said M. Remi Yergeau during the 2021 Future Professors Institute. "Like many college students, I had entered college without the documentation necessary to receive disability accommodations, and I didn't understand the labyrinthine institutional structures before me."
Yergeau, who is associate professor of digital studies and English and associate director of the Digital Studies Institute at the University of Michigan, gave the keynote presentation, titled "Un/Accommodating Structures: On Disability and Higher Education." The talk offered insight into, and criticism of, university disability accommodations processes and proposed ways in which the system could be improved for all.
"In many contexts, disability is typically framed as a negative, as a limitation, or as a series of deficits," said Yergeau, who uses they/them pronouns. They explained that higher education institutions, like many employers, initially claimed that the Americans with Disabilities Act would enable "lazy" individuals to "game the system and lessen the rigor of a college education" through reasonable accommodations.
Instead of seeing disability as "a threat, a cost, an antithesis to rigor," they urged the graduate students, postdoctoral scholars, faculty, and staff from several universities in attendance to not only embrace students and faculty with disability identities but to do more to support them without formal requests.
The process, according to Yergeau, begins with intentional recruitment of disabled and neurodivergent students and continues into active support once they have matriculated. They encouraged institutions to view disability as a component of diversity, equity, and inclusion, if it is not already, and to consider the ways in which disability is described and addressed.
Instead of retrofitting physical spaces and courses to meet the needs of students with disabilities, Yergeau suggested professors make preemptive modifications. This could entail visiting the classroom before a course starts to change the way the room is set up, presenting and distributing materials in several ways to ensure everyone has access to the format that helps them learn best, and granting extra time requests on exams without requiring documentation. Although self-advocacy on the part of students is important, proactive work from faculty is too, they said.
"We need to critique, but we also need to start building – concrete action items that allow us to deploy this critique, to undo and complicate and question those beliefs that enforce ableism and promote able-mindedness and able-bodiedness as unquestioned ideals in graduate school and beyond," Yergeau said.
In addition to the keynote presentation, the Future Professors Institute featured panels on exploring institutional fit, faculty and leadership pathways at minority-serving institutions, and establishing scholarship and research agendas as new faculty members. This year, half of the panelists were Cornell Graduate School alumni.
"From attending the Institute, I did feel a sense of assurance from the alumni that once I reach graduation I will be able to find the correct path," said Jenniffer Bustillos, a doctoral student in mechanical engineering.
In addition to takeaways from the alumni panelists, she learned through the Institute that taking time to develop mentorship skills will be as important to her future career—and future students—as focusing on her academics and research. Jesus Martinez-Gomez, a doctoral candidate in plant biology, felt similarly.
"I am pursuing the professoriate and feel Cornell has excellent preparation," he said. "The Future Professors Institute, and other programs led by Associate Dean for Inclusion and Student Engagement Sara Xayarath Hernández and Future Faculty and Academic Careers Executive Director Colleen McLinn, have provided context that I would not have directly received otherwise."
Martinez-Gomez also expressed gratitude for the detailed look at the various relationships that professors must cultivate and that were explored through the institute.
"We would like to thank all of the faculty from within and beyond Cornell who generously agreed to participate in this year's institute as panelists and speakers, as it is their narratives, their insights, and their guidance that are critical to helping make the pathways to and through the professoriate more accessible and more manageable," said Kathryn J. Boor, dean of the Graduate School and vice provost for graduate education. "We'd also like to thank the participants in this year's institute for their engagement and commitment not only to themselves, but also to their peers in the collective journey toward faculty careers."
The Future Professors Institute is co-sponsored by the Graduate School Office of Inclusion and Student Engagement, Future Faculty and Academic Careers, and the Office of Postdoctoral Studies with support from NSF Grant No. 1647094; CIRTL AGEP.
Related:
This story is also available on the Cornell Chronicle website.