Graduate School Announces Changes in Doctoral Student Funding Practices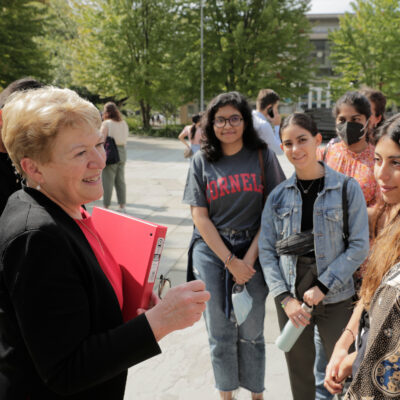 January 23, 2023
A suite of policy changes for the 2023-2024 academic year will help to ensure that current doctoral students at Cornell have the financial support they need to successfully complete their degrees. Kathryn J. Boor, dean of the Graduate School and vice provost for graduate education, announced the new requirements to fields and graduate faculty in recent weeks, emphasizing the need to support doctoral students, who play crucial roles in carrying out Cornell's research and education missions.
"Taken together, these changes will enhance the level of funding support for doctoral students at Cornell, helping students find success in their programs while also keeping Cornell competitive in recruiting the best students to our Ph.D. programs," said Boor.
The changes include a requirement that doctoral funding packages include plans for summer support for all students who are expected to make academic progress over the summer. Summer funding may take the form of fellowships, grants, or internships, among other possible sources. In addition, graduate fields are now required to prioritize funding current students who are in good academic standing before admitting new students.
"Student success is the focus of graduate education at Cornell," said Boor. "Our goal is to help our students most effectively achieve their academic goals."
The Graduate School will also require that fields adjust funding guarantees for students to match the anticipated time-to-degree for their given program. As the average time-to-degree varies from discipline to discipline, such guarantees will vary across fields.