Graduate Student Stipends to Increase by 8% for 2023-24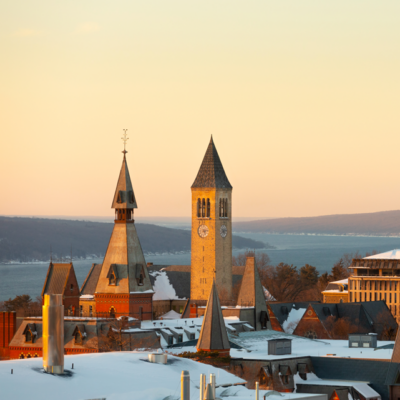 The Graduate School will raise graduate student stipends 8% for the 2023-24 academic year, the largest jump in stipends since 2006.
The university has approved the increase, which will bring 12-month assistantship stipends for Ithaca- and Cornell AgriTech-based students to $43,326.
"Cornell is committed to enhanced funding and other policy changes to benefit our outstanding graduate students, who are a fundamental part of the intellectual life of Cornell," said President Martha E. Pollack.
The stipend increase is just one part of an ongoing initiative to improve the experience for graduate students at Cornell – a set of policy changes focused on increasing stipends and enhancing other benefits, said Kathryn Boor, dean of the Graduate School and vice provost for graduate education.
The initiative also includes a requirement that doctoral funding packages contain plans for summer support for all students who are expected to make academic progress in the summer term. Summer funding may take the form of fellowships, grants or internships, among other possible sources.
In addition, graduate fields are now required to prioritize funding current students who are in good academic standing before admitting new students, and fields must adjust funding guarantees for students to match the anticipated time it will take them to complete their degrees.
"Taken together, these changes represent a major investment in stipend support for graduate students at Cornell, funds that will help students find success in their programs while also keeping Cornell competitive," Boor said, noting that Cornell fellowship stipends will also increase by 8%.
Doctoral students at Cornell receive multiyear funding packages that include full tuition, health insurance coverage and stipend. In 2022, only 1.4% of graduating Cornell doctoral students had incurred debt from U.S. federal loans, Cornell institutional loans and education loans from private lenders during their graduate studies, compared with the national average of 38.5% among doctoral research graduates.
The stipend increase comes at a time when inflation has posed a challenge, Pollack said. "While it's encouraging that inflation rates are now starting to decline, they've had a significant impact on the cost of living. So it's a priority for the university to provide stipends to our graduate students, and salaries to our faculty and staff, that help offset those impacts."
Related: 2023-24 Stipend Increase FAQs
This story originally appeared in the Cornell Chronicle.