Graduate Students Host Second Annual Diversity Preview Weekend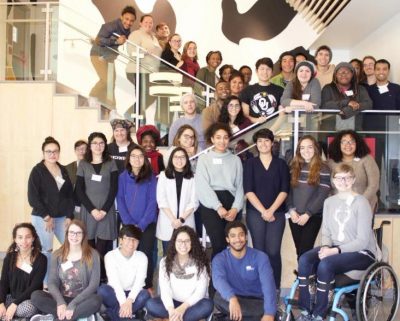 By Sally Kral
While the numbers of underrepresented minorities, women, students with disabilities and first generation college students in STEM fields have increased steadily over the last decade, they remain a small percentage of the student population, particularly in graduate programs.
At Cornell, a group of graduate students are aiming to change that, one prospective student at a time. Realizing that their department lacked students from diverse backgrounds, ecology and evolutionary biology graduate students Suzanne Pierre and Cait McDonald developed the first Diversity Preview Weekend.
By targeting prospective students in the year before they apply to graduate school, the Diversity Preview Weekend hoped to introduce graduate student life to visiting students by showing them participating academic departments and Cornell's campus.
Following a successful inaugural event in 2017, graduate students from the fields of ecology and evolutionary biology, entomology, and the School of Integrative Plant Sciences (SIPS) hosted the second annual Diversity Preview Weekend in March, bringing forty prospective students from 16 states, Guam, and Puerto Rico to Cornell.
The students visited labs, met with faculty, listened to research presentations and attended workshops focused on giving the students tools they need to prepare successful graduate school applications.
"After the students leave, they are well informed and confident in their abilities to be successful applying to graduate school. Many of them are eager to apply to Cornell—something that seemed inconceivable before they came here" said Stepfanie Aguillon, a Ph.D. candidate in ecology and evolutionary biology and co-planner of the event.
One participant remarked, "it was one of the greatest and most inspiring experiences I have taken part in. I felt included, welcomed and valued as a future colleague and scientist. I wish all future graduate applicants could have this experience and look forward to applying to Cornell this fall."
The Graduate Student organizers would like to see the Diversity Preview Weekend expand and hope it will eventually become a Graduate School-wide effort. Support comes from the Graduate School, Lab of Ornithology, Diversity Programs in Engineering and the participating departments.
This event is part of a more comprehensive graduate diversity recruitment strategy notes Anitra McCarthy, the Graduate School's Senior Director of Recruitment. "We take a highly personalized approach to recruiting students from underrepresented backgrounds in which relationship building is paramount and the Diversity Preview Weekend is reflective of this. We also assist the graduate fields in incorporating holistic application reviews and ways to avoid unconscious bias in the admission process."
McCarthy believes the Diversity Preview Weekend has the potential to have a significant impact on the pipeline of diverse students who will become our next generation of faculty and industry leaders.
Plans are already underway for the third annual Diversity Preview Weekend, the online application will be available in December.
Sally Kral is a communications and outreach assistant in the Graduate School