In-person or Online, Cornell's Summer Research Internships Prove Successful
By Katya Hrichak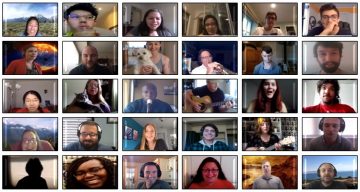 The COVID-19 pandemic halted plans to host annual on-campus summer research experiences for undergraduates from institutions across the U.S. and Puerto Rico. Cornell faculty, postdoctoral scholars, and graduate student mentors, however, quickly pulled together to shift course and move these programs online, allowing about 90 undergraduates to experience virtual research at Cornell.
The internships aim to introduce eligible undergraduates, many of whom come from backgrounds underrepresented in academia, to the nation's top research universities. Student participants receive faculty and graduate student guidance over an eight- to 10-week period, during which they perform graduate-level research and participate in professional development programming.
"The process of shifting online was just like what we had to do in the spring. We looked at what we would normally do, then figured out how to effectively transition that to remote," said Nikole Lewis, assistant professor of astronomy, deputy director of the Carl Sagan Institute, and co-lead for the National Science Foundation funded astronomy Summer Research Experience for Undergraduates program (REU).
Lewis was candid with her students, knowing that some aspects of the remote program would be successful while others might not. She was surprised to find that the new virtual format broadened the impact of certain components, like the students' final research presentations.
By using Zoom's breakout rooms to host a poster session, students were able to invite instructors from their home institutions, friends, and family – which would have been difficult to replicate in person. Even once in-person activities have resumed, Lewis intends to continue integrating Zoom to increase external audience engagement.
Carl Franck, associate professor of physics and faculty advisor for the Cornell High Energy Synchotron Radiation Source within the Cornell Laboratory for Accelerator-based Sciences and Education laboratory summer undergraduate research programs, was pleased with how well Zoom worked as a platform for both the research and social activities he had planned for his summer research interns.
The summer kicked off with "Cornell-a-Palooza", a welcome event for internship students across all disciplines, which provided an opportunity for them to learn more about Cornell and get to know one another in a fun and casual setting.
"Our special advantage was that we'd had plenty of experiences, as professors, in remote teaching and also doing remote research with students," he said. "In some sense, we succeeded in ways that we hadn't before in connecting with students from other programs."
Zoom proved effective for the research as well. Applied mathematics doctoral student Andrew Horning's own research experiences made it "pretty natural" to supervise students remotely. As a graduate student mentor, Horning met with subsets of students once or twice weekly to oversee their research progress.
"The students were so incredibly hardworking," he said. "They really pushed my thinking forward on a lot of these problems, so it truly was a mutual learning experience where we were all getting into the deep problems together."
Online research was new to many of the undergraduate participants, some of whom had never conducted research in-person. However, they finished their internships feeling more confident and better prepared to attend graduate school.
"I gained an understanding of what academic research entails as well as the methodology for conducting it," said Christian Harris, who worked with Professors Elaine Petro and Dmitry Savransky from the Sibley School of Mechanical and Aerospace Engineering, studying trajectory optimization in aerospace engineering. An interdisciplinary computing major from the University of Kansas, he was able to "push himself to do things [he'd] never done before".
Liana Shpani, a physics-mathematics double major from Clark University, studied with Franck conducting research in accelerator sciences. Like Harris, she left with clarity on her academic future.
"During the first half of the summer, I focused on a theoretical approach to optimize crystals that are used for monochromators. During the second half of the summer, I focused on designing an optimized X-ray scattering experiment to test quantum electrodynamics theory," she said. "I now have a clearer idea of what I want to study in graduate school."
Graduate School Senior Director of Recruitment Anitra Douglas-McCarthy said that having witnessed the success of this first fully online internship experience, Cornell faculty are now considering whether research internships can be done remotely in the future. Continuing to offer remote components will open opportunities to students who, for a variety of reasons, may not otherwise be able to physically travel to Ithaca, which ultimately may encourage more students to consider Cornell for graduate study.
"These programs expose undergraduates to world-class research at Cornell and are a tremendous benefit to the students and to Cornell both short-term and long-term," she said.
Lewis and Franck agreed.
"Our program is focused on providing research experiences for students who otherwise wouldn't have access," said Lewis. "If you're trying to build a community that is diverse and inclusive, having students who have a very different experience from our own is a really important part of that. It benefits not only our community, but also the students who are seeing what it's like to do research at an R1 institution."
"We benefit a lot from our exposure to really talented students and they, in turn, complete really valuable projects," said Franck. "They really lit a fire under us."
The summer held one more surprise for Douglas-McCarthy: "During Farewell-a-Palooza, the closing event for the group, the students told jokes, showed us their pets, played musical instruments, and sang songs. We typically focus on the research, but this summer, we were able to learn more about the interests of the students beyond their academics. It was really impressive."
For more information on Cornell's summer research internship programs, visit the Graduate School's Summer Research Internships for Undergraduates page. More information about REUs at institutions across the U.S. can be found on the National Science Foundation and Pathways to Science websites.