New Big Red Barn Manager to Begin Feb. 1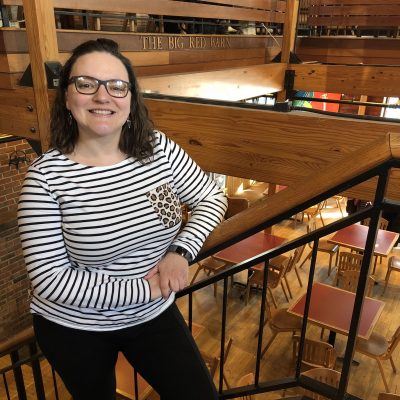 By Katya Hrichak
Whether stopping in for lunch, free popcorn, Grad Write-Ins, or TGIF at the Big Red Barn, students can expect to see a new face: February 1, Jennifer Forbes will begin as Big Red Barn manager, following long-term BRB Manager Kris Corda's retirement.
Prior to beginning at the Barn, Forbes's most recent positions were an undergraduate class dean at Rensselaer Polytechnic Institute and director of residence life at Bard College, but she is no stranger to Cornell. Prior to those positions, she worked at Cornell as a residence hall director in the townhouse community.
"I loved working at Cornell previously and couldn't wait to get back to the university," Forbes said. "Cornell's philosophy of 'any person…any study' has always resonated with me. The inclusive environment the university creates for students was one of the reasons I was motivated to come back after years away."
Helping to foster this atmosphere for graduate and professional students is one of her primary goals as manager. Although she brings with her new ideas to enhance the Barn's offerings, she intends to maintain the programs that students have already grown to know and love. The Big Red Barn is about both tradition and new ideas for building community.
"It should be what the students need and want," she said. "That's my goal."
The Big Red Barn Graduate and Professional Student Center, located in the geographic heart of campus, brings students from across campus together in a warm and welcoming environment. Once a carriage house and stable for Cornell's first president, the renovated barn now fulfills that purpose, offering a place for students to eat, study, and socialize.
"Even though many of my friends are in the same field as I am, we're scattered all across the university. It's not uncommon that I'll go weeks (and sometimes months) without crossing paths with any of them," said Nate Rogers, a member of the Graduate and Professional Student Assembly. "The Big Red Barn is one of the rare places where I can reliably meet and spend time with other graduate students."
Associate Dean for Academic and Student Affairs Jan Allen welcomes Forbes, her commitment to the purpose of the Big Red Barn, and her ideas for furthering its mission.
"We have been so fortunate to have Kris Corda leading the BRB for 20 years, and we continue to feel so lucky that we have Jen starting in this position," said Allen. "Those who met her during our search and interview process were impressed with her enthusiasm, her ideas about developing community for graduate students, and her understanding of the BRB not just as an event space or facility but as a graduate student center. She is returning to Cornell after time spent working elsewhere, and her continuing love for and commitment to Cornell is so obvious."
In her new role, Forbes looks forward to fostering connections between students across fields, disciplines, and even campuses.
"My time at Cornell previously along with the rest of my higher education experiences have prepared me well to take on the tasks of the position," she said. "I like to approach my work in a fun, student-centered, and caring way, so I believe I will bring those same characteristics to my work with graduate students."
Katya Hrichak is a communications assistant in the Graduate School.