Over 50 Students Recognized at Pinning Ceremony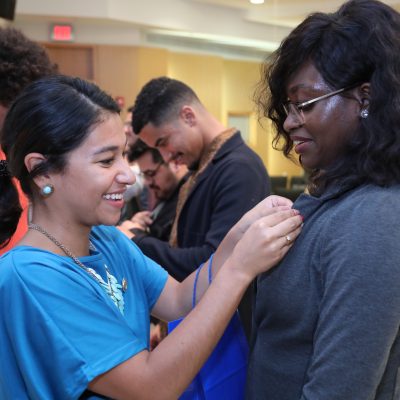 By Katya Hrichak
The Graduate School welcomed more than 50 new Dean's Scholars at the Sept. 25 Dean's Scholars Pinning Ceremony, which honors recipients of competitive diversity-focused fellowships.
At the ceremony, each scholar receives a pin with a round, gold center containing the Cornell seal, representing the scholars' achievement, surrounded by an outer ring of silver, representing their persistence.
"The Dean's Scholar pin is a humble reminder not only of the obstacles that I have overcome and the obstacles that I have been willing to confront, but also of the fact that the community who comprises Cornell stands behind me in support," said Elias Beltran, a doctoral student in comparative literature. "We can never know the depth and scope of anyone else's struggle to get here, but this moment says that I am accepted, believed in, and supported from the moment I arrived at Cornell."
"I'm honored and enthused to recognize these talented graduate students," said Barbara A. Knuth, dean of the Graduate School. Their achievements span academic, professional, and personal accomplishments. We look forward to their numerous contributions to Cornell, within their academic fields and across the broader Cornell community."
Performing and media arts doctoral student Elissa Domingo Badiqué discovered that "being named a Dean's Scholar goes far beyond receiving substantial financial support that opens doors into academia for those of us who are historically (and currently) underrepresented. What is crucial about this opportunity is the camaraderie, the friendships, the support of a community who is here to remind you that you belong."
Andrea Darby, a doctoral student in entomology, found being named a Dean's Scholar provided her with "an opportunity for me to create a support system outside of my department."
Induction into the Dean's Scholars Program helps students network and establish connections across graduate fields by attending professional and community development events sponsored or co-sponsored by the Graduate School Office of Inclusion & Student Engagement (OISE) and its partners, some of which include Diversity Programs in Engineering, Cornell University Initiative to Maximize Student Development (Cornell-IMSD) program, and Cornell University Center for the Integration of Research, Teaching, and Learning (CIRTL at Cornell).
"Being a Dean's Scholar is not only an honor but an opportunity to deepen my understanding and involvement with allyship," said Alexander Lacrampe, a doctoral student in biochemistry, molecular and cell biology. "By connecting with other Dean's Scholars, I can not only continue my advocacy, but I can also continue to learn how to ally with different communities and people."
The ceremony, led by Sara Xayarath Hernández, associate dean for inclusion and student engagement, recognized recipients of the Dean's Excellence Fellowship, Dean's McNair Fellowship, Dean's Mellon Mays Fellowship, SUNY Graduate Diversity Fellowship, McNair SUNY Graduate Diversity Fellowship, Mellon Mays SUNY Graduate Diversity Fellowship, Provost Diversity Fellowship, Cornell Colman Fellowship, Cornell Sloan Fellowship, Cornell GEM Ph.D. Fellowship, and Cornell IMSD Program.
Katya Hrichak is a communications assistant in the Graduate School.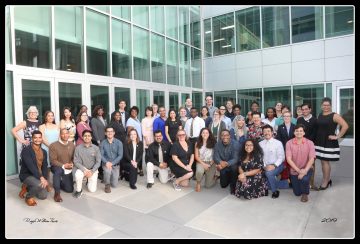 Related Resources: