Partnership Expands Horizons of Humanities Doctoral Career Possibilities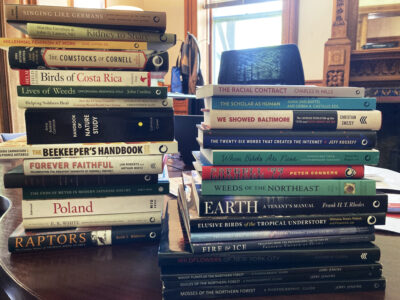 April 17, 2023
By Susi Varvayanis and Jane Bunker
Cornell University Press and the Graduate School have partnered to provide internship training experiences for graduate students. Incorporating experiential learning is less common in the humanities doctoral training paradigm, which tends to be more of a solo endeavor. To help students acquire more employment-ready skills that will help them in any future career, Jane Bunker, director of Cornell University Press, and Susi Varvayanis, executive director of Cornell's Graduate School Careers Beyond Academia initiative, created an opportunity right at Cornell. Bunker shares, "When I was a doctoral student in philosophy I was assigned to work with the managing editor of an important journal published on campus. This experience proved an invaluable training ground from which I launched a career in scholarly publishing."
To offer students the chance to experience firsthand what is involved in becoming an acquisitions professional at a university press, the partners designed a flexible on-campus summer internship. The inaugural fellow in the summer 2022 pilot was Ewa Nizalowska, a doctoral student in the field of government.
In addition to working on a team and gaining exposure to the publishing industry, Nizalowska developed skills useful in academic or public sector careers, such as persuasive writing and communication. An inside look into the manuscript submission, peer review, and the preparation of manuscripts for final editing, design, and production shed light on how authors and editors partner to make books. Fellows also gain experience in intellectual property by assisting authors with securing third-party permissions, as well as in marketing and sales by observing this work at the press.
"As scholarly publishers in a campus environment we are keenly attuned to how important it is to attract, prepare, and nurture students for careers in publishing. These brilliant young scholars teach us as well; the mentorship experience is enriching all around," says Bunker.
Overall, more than half of Cornell doctoral alumni end up in positions outside the tenure track. But for the humanities, this number hovers in the 20% range, and there is increasing interest in specific training that will better prepare them for faculty roles. Excellent communication skills, as well as mentoring, teaching, and inclusive classroom practices are all essential. Publishing a dissertation in the form of a book and contributing to the scholarly literature also remain key elements that will set Ph.D. applicants apart from other candidates for any role sought, including a faculty position.
As the inaugural fellow, Nizalowska says she was able to gain confidence in navigating a process that was previously hidden to her. By practicing the essential skills for success in the role through a closely mentored experience, she increased her self-efficacy and gained insights for her future career decision.
"My time as the Graduate Acquisitions Fellow at the press was an invaluable introduction to the world of scholarly publishing. It gave me a holistic sense of what publishing would entail as a career, while also allowing me to develop a wide range of highly transferable skills."
Careers Beyond Academia has a track record of helping doctoral students and postdoctoral scholars reframe their skills for a variety of careers such as consulting, entrepreneurship, policy, government, and industry. "We are excited about the success of the 2022 pilot with CU Press, and the partners are looking forward to soliciting Acquisitions Fellow applications for the summer of 2023," says Varvayanis.
The position will be posted online.