Professionals Discuss Careers in and Beyond Academia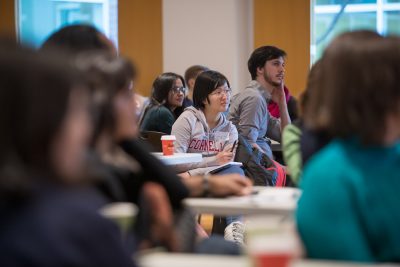 By Katya Hrichak
Nearly 120 participants Zoomed into the career panel discussion, "Careers in and Beyond Academia," during the Graduate School's Summer 2020 Pathways to Success Series on June 3. Moderated by Executive Director of Careers Beyond Academia Susi Varvayanis, five professionals discussed their journeys.
A lesson many of the panelists learned was the importance of embracing unexpected opportunities. Taking time to explore professions provided the clarity that helped to discover and recognize good fits for future careers.
Jennifer Urban, M.A. '06, Ph.D. '08, professor of family science and human development at Montclair State University, had no interest in pursuing an academic career when she began her doctorate. She deferred a tenure track position post-conferral and worked as a policy fellow as she considered her options. Now, as a professor, she supports students who are interested in exploring their career possibilities.
BJ Bormann, vice president for translational science and network alliances at the Jackson Laboratory, echoed the importance of keeping an open mind. Since earning her Ph.D., Bormann's career has included business development, licensing, intellectual property law, and tech transfer.
Both Jeremy Urban, Ph.D. '07, director of people analytics at Taboola, and Mary Centrella, Ph.D. '19, director and educator for Cornell Cooperative Extension's Pesticide Management Education Program, spoke about the importance of identifying their strengths and interests during their time in graduate school. For Centrella, this meant looking for a position that would bridge the gap between research and the community. For Urban, it meant finding a career based in research.
"I feel really fortunate that I didn't limit myself to 'I'm not going to be happy if I'm not a professor'," said Virginia Kennedy, Ph.D. '12, head of school, English department chair, and director of sustainable programs and curriculum at West Nottingham Academy.
The Summer 2020 Pathways to Success Series was sponsored by the Graduate School, the English Language Support Office, Cornell Career Services, and the Office of Postdoctoral Studies. Participating Graduate School offices included Inclusion and Student Engagement, Academic and Student Affairs, Graduate Student Life, Careers Beyond Academia, and Future Faculty and Academic Careers.
Related: