Resource Fair to Connect Graduate and Professional Students
September 6, 2022
By Katya Hrichak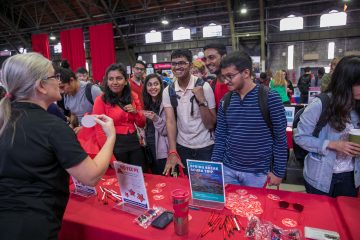 Navigating the offices and student programs at a large university can be challenging, and at an institution as complex as Cornell it can feel impossible. A special event on Monday, September 12 from 1-5 p.m. at Barton Hall will bring together graduate and professional students from all colleges and programs to showcase resources from all over campus. The Cornell Resource Fair for Graduate and Professional Students is specially designed to introduce them to the offices and support programs that can help them thrive at Cornell.
"If you're a graduate or professional student and you don't know what's available to you on campus, this resource fair will provide you with lots of information and allow you to meet actual people who can help you while you are a student," said Janna Lamey, Graduate School senior assistant dean for graduate student life. "This is a great way to start making connections and getting your questions asked and answered."
With more than 60 campus resources including 20 graduate and professional student organizations, the fair is purposely targeted to all incoming and continuing graduate and professional students. Students are encouraged to come learn more about campus offerings and offices, pick up free swag and snacks, and engage with other graduate and professional students. All students who attend will be given a free drink ticket, redeemable at the Big Red Barn Graduate and Professional Student Center between 3:30 and 10 p.m. the same day.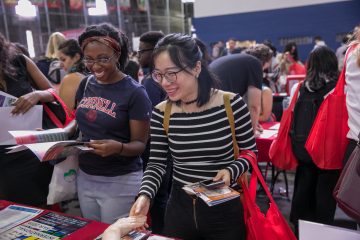 The fair is hosted by the Graduate School, the Law School, the SC Johnson College of Business, the College of Veterinary Medicine, and the College of Engineering.
"We are so excited to sponsor this program as it is our first in-person resource fair since 2019, and we are opening it up to all who will benefit," Lamey said.
View a full list of participating campus partners on the Graduate School website. Students who need accommodations to participate in this event are invited to submit an accommodation request form.