Students Present Research Around the World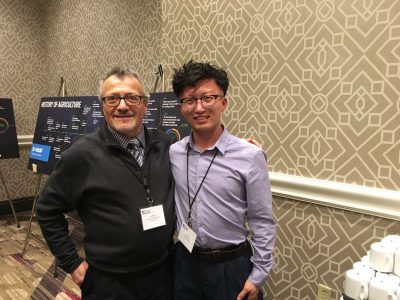 By Katya Hrichak
Each year, the Graduate School awards hundreds of thousands of dollars to help support graduate students as they travel to conferences and present their research. According to Associate Dean for Administration Jason Kahabka, this is part of a Graduate School initiative to support students' holistic development.
"We offer child care grants, professional development opportunities, and research travel grants, and so Conference Travel Grants are part of a larger suite of support structures to really help the whole student," he said.
Attending a professional conference benefits students, not only by providing opportunities to present their research, but also by providing an opportunity to network with peers and colleagues and learn about the discipline's culture.
For Colleen Miller, a doctoral student in ecology and evolutionary biology, attending a conference in Alaska helped her "develop new collaborations" and expand her research support network. Similarly, horticulture doctoral student Liang Cheng said it was "a great opportunity to build [his] professional network" while in Louisiana attending his field's largest conference, which featured professionals from both academia and industry.
Students traveling internationally for conferences benefit from the grant, too. For astronomy and space sciences doctoral student T.K. Daisy Leung, her grant offset her expenses traveling to Portugal where she shared her research and spoke with peers. Lina Bagepalli, a doctoral student in biochemistry, molecular and cell biology, discovered a direction for her career after attending a conference in Poland.
"Attending presentations from both professors and peers allowed me to expand my knowledge and think critically about my research, helping me grow as a scientist," she said. "The panel on the future directions of RNA therapeutics was especially interesting and gave me insight into my future career paths."
All students pursuing a research degree are eligible each year to receive one Conference Travel Grant between July 1 and June 30 to help offset the costs associated with presenting research at a conference. For more information and to view the application, visit the Travel Funding Opportunities page.
Katya Hrichak is a communications assistant in the Graduate School.
Related: