Student Spotlight: Liang Cheng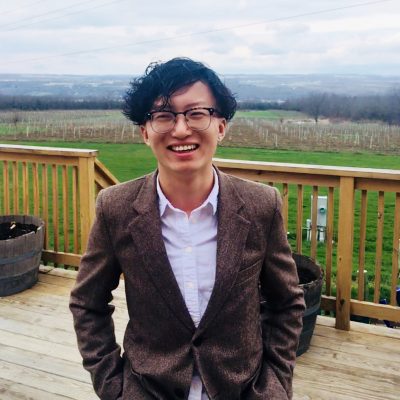 October 21, 2019
Liang Cheng is a doctoral student in horticulture from Henan, China. After earning his undergraduate degree from Sichuan Agricultural University, he chose to attend Cornell due to the research being undertaken in his advisor's lab.
What is your area of research and why is it important?
Similar to how human intestine microbiomes have underestimated effects on human physical or even mental health, the soil microbiome can have various effects on plant performance. My research focuses on the microbiome of weed species. I'm interested in how differences in land management and cropping history could affect the soil microbiome and therefore change plant performance. The co-evolution between plants and microbes is like an arms race that makes the rhizosphere microbiome a promising reservoir for novel herbicide discovery.
What are the larger implications of this research?
Herbicides as the major weed management practice contribute to over 40 percent of the pesticides worldwide and the 80 billion dollar industry. However, weed resistance has been evolving rapidly, with 23 of the 26 currently known herbicide modes of action having reported resistance. This means that we are running out of chemicals. Exploring the weed microbiomes with next-generation sequencing technologies could be a promising approach for novel herbicide discovery as well as providing insight into alternative weed management strategies.
What inspired you to choose this field of study?
I developed my love for nature when I was young. I started from plant science and then I got interested in plant-microbe interactions.
Where did you travel with your Graduate School Conference Travel Grant?
The 2019 annual meeting of the Weed Science Society of America (WSSA), New Orleans, Louisiana.
How important was obtaining this grant for your professional development?
The WSSA annual conference is the largest conference in the field of weed science. I was able to present my research to an audience from both academia and industry and get their feedback. It also helped me learn about other researchers' work that has not been published yet. Moreover, it was a great opportunity to build my professional network.
What are your hobbies or interests outside of your research or scholarship?
With eight years of experience in Kendo, a martial art from traditional Japanese swordsmanship, I've been teaching beginners and leading practices at Cornell Kendo Club for the past two years where there is no official instructor. The club has been actively participating in intercollegiate tournaments hosted by Harvard, Columbia, Rutgers, etc., as well as holding our own annual Cornell tournament in which many other schools come to compete. This has been an important part of my life at Cornell and I really enjoy the experience.
Why did you choose Cornell to pursue your degree?
The research in my advisor's lab interested me, and Cornell is one of the top schools in agriculture with a lot of resources.