Symposium Encourages Graduate Student Success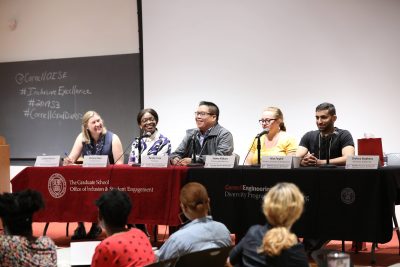 By Katya Hrichak
New and continuing graduate students attended the daylong Summer Success Symposium on August 21 hoping for tips to aid a successful transition to and progression through graduate school. What they received were inspiring messages from current students, professionals, and alumni.
The morning focused on graduate student experiences, from transitioning to graduate school to taking first steps on a thesis or dissertation. The panel of five current doctoral students and candidates reflected on their paths to Cornell and finding their places, while dissertation coach Wendy Carter-Veale, Ph.D. made the process of approaching a thesis or dissertation less daunting.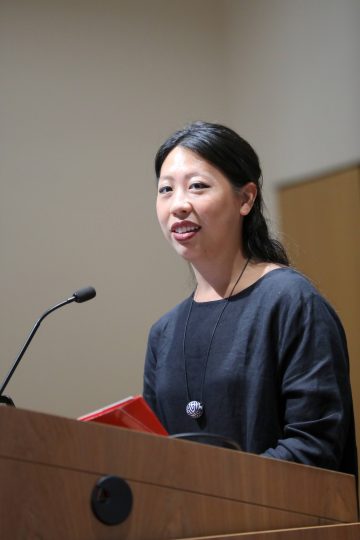 During the keynote speech, attendees were invited to consider the impacts of community-engaged research as they heard from Diane Wong, M.A. '15, Ph.D. '18. Wong, now assistant professor and faculty fellow at the Gallatin School of Individualized Study at New York University, received both of her degrees in government at Cornell where she was a Graduate School Dean's Scholar and a member of the Edward A. Bouchet Graduate Honor Society.
"I see my work stemming from a deep place of love for community," she said while speaking about her studies of gender, race, and the gentrification of Chinatown. "There is a need for academics to shift our relationship with the communities that we choose to write about or do our research about."
She urged students, "As you all move onward to the next chapter of your research careers, I want you to keep community in mind and to build forth transformative research that is tied to healing, justice, and solidarity with the communities."
The final session of the day, an interactive workshop facilitated by leaders from Google, encouraged all in attendance to step out of their comfort zones and practice self-promotion.
"#IamRemarkable strives to empower women and underrepresented groups to speak openly about their achievements and to take a little more control of our own story and how we present ourselves to others," said Elena Cuevas, technical account manager at Google. "We're going to share a couple of ways to practice this."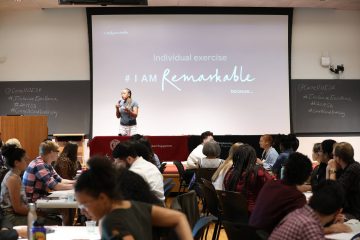 Through individual, small group, and large group activities, all symposium attendees were encouraged to identify, celebrate, and communicate what makes them remarkable.
The Google team left participants with a series of exercises to practice throughout their programs to build upon these foundations, including creating a group chat for sharing achievements.
"Hopefully all of you feel like there is a community that exists here that you can tap into, that you will not let the moment that you feel right now pass you by, and that you will continue to leverage this opportunity," said Sara Xayarath Hernández, associate dean for inclusion and student engagement.
With closing remarks from Amnon Ortoll-Bloch, a Ph.D. candidate in chemistry and chemical biology and Graduate School Dean's Scholar, on the importance of knowing what resources exist and how to access them, participants concluded their day with new knowledge and confidence to accompany them through graduate school.
The Summer Success Symposium was sponsored by the Graduate School Office of Inclusion and Student Engagement, Diversity Programs in Engineering, and the Cornell Chapter of the Bouchet Graduate Honor Society.
The event was supported by the National Science Foundation (NSF) under Grant No. 1647094 (AGEP CIRTL) and a subcontract under Grant No. 1231286 (Cornell AGEP). Any opinions, findings, and conclusions or recommendations expressed during the symposium are those of the authors and do not necessarily reflect the views of the NSF.
Katya Hrichak is a communications assistant in the Graduate School.