Summer Success Symposium
The Summer Success Symposium is a professional and community development event for new and continuing M.S./Ph.D. and Ph.D. students from across all graduate fields who identify as belonging to groups historically underrepresented in graduate education. The symposium has a particular focus on bringing together recipients of graduate fellowships in support of diversity as well as all other doctoral scholars who identify as BIPOC (Black, Indigenous, and other People of Color), first generation college (FGC) students, and/or who identify with other historically underrepresented groups such as LGBTQQ+ identified students, Veterans, students with disabilities, women in STEM, students with DACA status,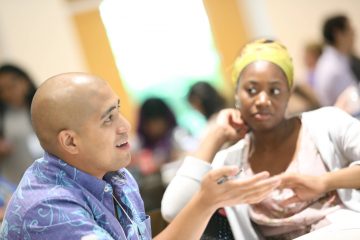 and others. Research master's degree students and other master's degree students interested in pursuing doctoral studies are also welcome to this event.
Through this symposium, participants have the opportunity to form connections and establish community. This symposium also provides participants with the opportunity to engage with successful Cornell alumni, faculty, and professionals with shared experiences as diverse scholars. Summer Success Symposium keynote and workshop content focuses on providing participants with access to knowledge and insights that will help them navigate their successful transition to and progression in their graduate studies.
2020 Summer Success Symposium
August 18, 19, & 20, 2020 | 12:30-2:00pm (EST) | Zoom
Tuesday, August 18 | 12:30- 2:00 pm
Activate your Network: Developing Professional Mentor Relationships
Having a network of people you can reach out to is important. But ensuring that you have the right people whose experiences and wisdom can guide you on your path to success is even more important. Mentors can not only help to take your career to the next level, but are also helpful when it comes to navigating difficult decisions.
Presenter: Malika Grayson, '14 M.S., '16 Ph.D., Mechanical Engineering
---
Wednesday, August 19 | 12:30- 2:00 pm
Long Term Negotiations For (Professional) Relationships
This workshop will focus on negotiating with colleagues, as well as those responsible for your current & future career trajectory. We will use a case study approach and practice at least two different negotiating scenarios. We will discuss best practices as well as discuss our hesitancies in negotiating. Further we will point out our lack of ability to identify and engage in a negotiating opportunities.
Presenter: Marcus Brooks, M.B.A.
About Marcus Brooks, M.B.A.
---
Thursday, August 20 | 12:30- 2:00 pm
Mastering Your Transition Into and Progression Through Graduate School
Continuing PhD students will discuss their strategies for making a successful transition to graduate school, and their experiences navigating their ongoing progression
Panelists:
Mikaela Spruill- PhD Student, Psychology (moderator)
Christopher Berardino- PhD Candidate, English
Andrea Darby- PhD Student, Entomology
Kelly Murray- PhD Candidate, Biochemistry, Molecular & Cell Biology
Marguerite Pacheco- PhD Student, Biomedical Engineering
---
Event Sponsors
Graduate School Office of Inclusion & Student Engagement, Diversity Programs in Engineering, and the Cornell Chapter of the Bouchet Graduate Honor Society
This event is also supported by the National Science Foundation under Grant No.1647094 (AGEP CIRTL) and a subcontract under Grant No. 1231286 (Cornell AGEP). Any opinions, findings, and conclusions or recommendations expressed in this material are those of the authors and do not necessarily reflect the views of the National Science Foundation.
This program was modeled in part after PROMISE: Maryland's AGEP Summer Success Institute.