Summer Success Symposium
The Summer Success Symposium is a professional and community development event for new and continuing doctoral students from across all graduate fields. The symposium has a particular focus on bringing together recipients of graduate fellowships in support of diversity as well as all other doctoral students from backgrounds historically excluded from and underrepresented in the academy. This includes, but is not limited to students who identify as Black, Indigenous, Hispanic/Latine, and/or Asian American, and/or those that identify as first-generation college (FGC) students, LGBTQQ+ identified students, veterans, students with disabilities, women in STEM, students with DACA status,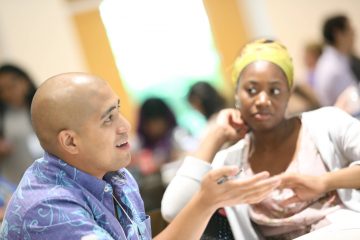 and others. Master's degree students interested in pursuing doctoral studies are also welcome to this event.
Through this symposium, participants have the opportunity to form connections and establish community. This symposium also provides participants with the opportunity to engage with successful alumni, faculty, and professionals with shared experiences and identities. Summer Success Symposium keynote and workshop content focuses on providing participants with access to knowledge and insights that will help them navigate their successful transition into and progression through their graduate studies.
---
2023 Summer Success Symposium
Register (Priority Registration Date: August 8)
August 15, 2023 | 10 a.m.-3:30 p.m. ET | G10 Biotechnology Building
10-10:15 a.m. ET
Check-In
---
10:15-10:30 a.m. ET
Welcoming Remarks
Speaker: Sara Xayarath Hernández, Associate Dean for Inclusion and Student & Faculty Engagement, Graduate School
---
10:30 a.m.-12 p.m. ET
Opening Plenary Session – Navigating Mentoring Relationships: Challenges, Opportunities, & Considerations
Speaker: Steve Desir, Ph.D., Director of Professional Learning & Organizational Development, Consortium for Equity in Graduate Education, and Assistant Professor of Research, Rossier School of Education, University of Southern California
Session Summary
Student-faculty mentoring relationships can play a pivotal role in shaping the academic and career trajectories of graduate students. Strong mentoring relationships are dynamic, collaborative, student-centered, and developmental, and they require ongoing dialogue between students and their faculty mentors about what works and is not working in the mentoring relationship. In this keynote, through dialogue, vignettes, and activities, we will engage in self-reflection and develop tools and strategies for navigating the student-faculty mentoring relationship.
About Dr. Steve Desir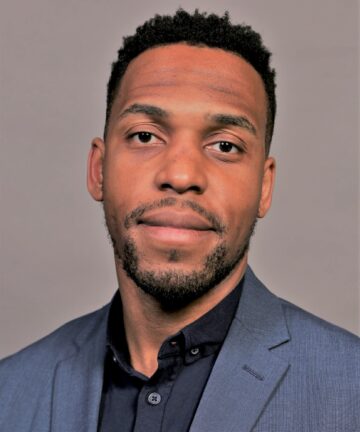 Dr. Steve Desir is an assistant research professor in the Pullias Center for Higher Education at the University of Southern California Rossier School of Education. His research interests include racial equity in college admissions, organizational change, and the use of theory-based psychological interventions to facilitate behavioral change. More specifically, Dr. Desir is interested in whether insights from social psychology, sociology, and behavioral economics can be used to improve educational experiences for minoritized groups. Dr. Desir earned his doctoral degree in higher education from USC and a master's degree in education policy and management from Harvard. Prior to his studies at USC and HGSE, Dr. Desir completed his master's degree in secondary education from NYU and earned his bachelor's degree in economics and political science at Penn State. Dr. Desir is a native New Yorker, and in his spare time enjoys running, Muay-Thai kickboxing, and attending concerts.
---
12-12:30 p.m. ET
Boxed Lunch
---
12:30-2 p.m. ET
Alumni Keynote Session – Mentorship: Why it is Important Now and How it Sets the Course for a Successful Future
Speaker: Coalton Bennett, Ph.D. '10, Patent Agent, McCarter & Fish
Session Summary
The graduate school experience should be a period in your life in which you have the opportunity to explore and develop different ideas, learn about different areas of research that you think might develop into your dissertation, and hopefully learn even more about areas that you are unfamiliar with or that you think you might not be so interested in. During your tenure as a graduate student, you should try to explore different research topics and develop those interests into well-defined projects that ultimately culminate into a dissertation that is uniquely your own and helps advance the corresponding field(s) of research. While graduate school should afford you this opportunity, sometimes it's not as straightforward and ideal as one might envision it to be. During this session, Dr. Bennett will share thoughts on how best to navigate the process of identifying what it is that you want to work on and why mentorship is so important in helping you achieve what you set out to accomplish as a graduate student.
About Dr. Coalton Bennett

Dr. Coalton Bennett is a patent agent, assisting in the preparation and prosecution of patent applications filed with the U.S. Patent and Trademark Office (USPTO). Dr. Bennett has a significant technical background in a wide range of areas including computer networks, internet applications and software, audio signal processing, speech processing, image processing, wireless communications standards including IEEE 802.11, IEEE 802.15.4, cellular data service (knowledge of various standards including GSM, CDMA, GPRS, 3G, UMTS, etc.), mobile advertising, software, mobile payments, mapping software, retail advertising, machine learning, genetic algorithms, artificial intelligence, optical communications, blockchain, and cryptocurrency. In addition, he has experience with data security and privacy.
Prior to becoming a patent agent, Dr. Bennett was a member of the technical staff at the Massachusetts Institute of Technology (MIT) Lincoln Laboratory, where he developed networking protocols for wireless handsets. Dr. Bennet earned his Ph.D. and M.S. in electrical engineering in 2010 from Cornell University and his B.S. in electrical engineering from Howard University.
---
2-2:15 p.m. ET
Break
---
2:15-3:30 p.m. ET
Mastering Your Transition Into & Progression Through Graduate School
During this panel discussion with continuing doctoral students from across the disciplines, panelists candidly discussed their experiences and strategies for making a successful transition into graduate school. They also shared insights on their experiences navigating their ongoing progression through their graduate studies and their exploration and preparation for various postgraduate career pathways.
Moderator: Drea Darby, Ph.D. Candidate, Entomology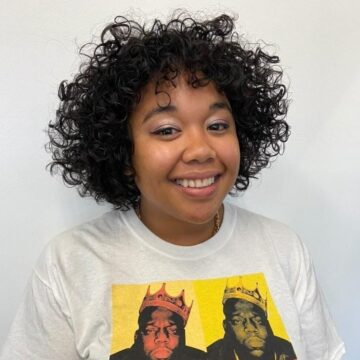 Drea Darby, Ph.D. candidate in entomology, is a Ford Foundation Fellow and McNair scholar who studies the metabolic consequences of infection and the effects of high sugar diets on infection outcome in the fruit fly Drosophila melanogaster. She is recognized for her leadership and service efforts in advancing opportunities and the well-being for historically marginalized students in academia and increasing our understanding on how science has historically been used to justify inequities in our society. Drea co-developed the Science of Bias Seminar in Fall 2020 where students learned about the historical context of bias and exploitation in science and how it persists in the present day. She served as a co-leader for the Cornell Diversity Preview Weekend, which has transformed into the institutionalized program Consider Cornell, where students from groups historically underrepresented in academia learn the ins and outs of the graduate application process. She has also served on the executive board for the Black Graduate and Professional Student Association (BGPSA) and as an active member of the Graduate and Professional Student Diversity Council (GPS-DC). Currently, she is a graduate student ambassador and a mentor in the Graduate Students Mentoring Undergraduates program within the Office of Academic Diversity Initiatives (OADI) on campus. Drea also enjoys her life as a plant and dog mom, playing video games, and watching anime.
Panelists
Alan Mata, Ph.D. Student, Entomology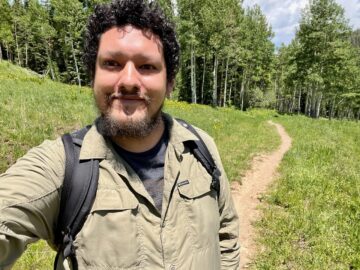 Alan Mata is a third-year Ph.D. student in the field of entomology at Cornell University. Alan serves as the SACNAS outreach chair and is a first-generation student. His research interests revolve around insect systematics (taxonomy and phylogenetics) and biogeography and studies a really cool group of flies called bee flies, which mimic bees and wasps in behavior and morphology. Furthermore, they are parasitoids of a variety of different insect groups. Given that bee flies need a lot of revisionary work, this is a good system for Alan to not only look at the biodiversity of this group but also ask some really interesting evolutionary biology questions.
Alex

Pasqualini, Ph.D. Candidate, Music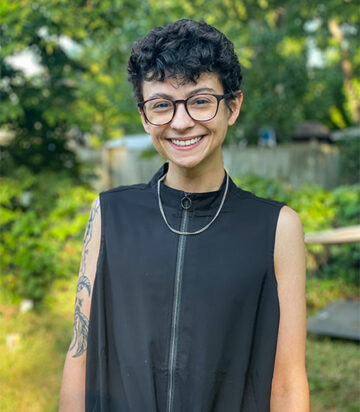 Alex Pasqualini is a current Ph.D. candidate in music and sound studies. Their research is focused on the intersections of popular music, play, silliness, camp, activism, and queer community building, with a focus on the 1990s queer-feminist-punk music of riot grrrl and queercore. Coming from southwestern Ontario, Alex completed their bachelor's degree in music at the University of Western Ontario and a master of arts in musicology with the collaborative sexual diversity studies program from the University of Toronto. Alex's passion for fostering queer belonging is reflected elsewhere in their work on and off campus, such as in their work as the graduate assistant of Cornell's LGBT Resource Center, as co-president of the QGrads and Music Graduate Student Associations, and as part of the steering committee for Transpose: Ithaca's Queer Singer's Alliance.
Dante King, Ph.D. Student, Classics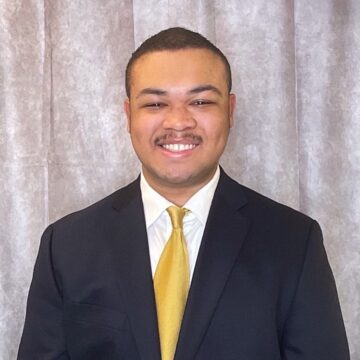 Dante is entering his third year as a Ph.D. student in interdisciplinary classics. In 2021, he earned his B.A. in classical languages magna cum laude from The College of Wooster and investigated foundation stories' influence on and interaction with early Roman imperial society in his honors thesis, "Two Sides of the Same Coin: Vergil and Ovid's Clashing Portrayals of Individual and Group Identity." While Dante maintains a wide range of interests, he is most passionate about investigating visualization, the synergy of text and image, in late antique and early medieval illuminated manuscripts of the Latin west. He is currently the secretary of Cornell's Medieval Studies Graduate Association (MSGA) and also works with Professor Emeritus Jeff Rusten on the Lexeis project, using Python to digitize single author ancient Greek lexica. Alongside his work in classics, Dante has nurtured a love of music and theatre. He has sung in various languages (including Latin), both solo and in choral environments, and acted onstage in twelve productions, including Euripides' Medea (Jason) and Terence's Adelphoe (Demea).
Helen Stec, Ph.D. Student, Neurobiology and Behavior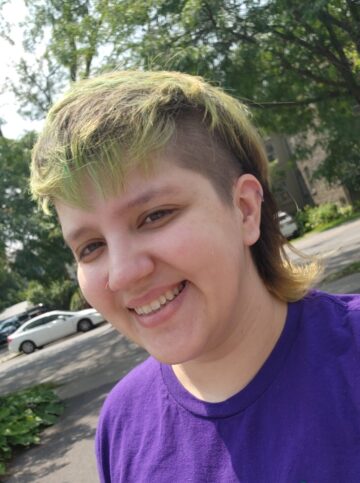 Helen Stec is a second-year Ph.D. student within the field of neurobiology and behavior at Cornell University. They are studying brain differences between the male morphs of Poecilia parae, a species of fish closely related to the guppy. They are the chair of the Multicultural Academic Council (MAC).
Kaitlin Diggins, Ph.D. Student, Plant Pathology and Plant Microbe Biology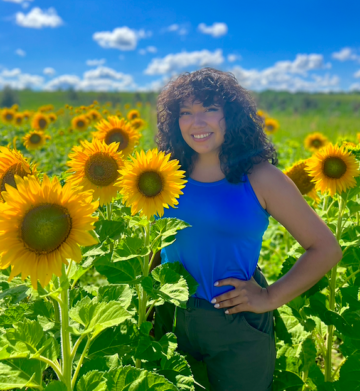 Kaitlin Diggins is from Mondamin, Iowa, and a recent graduate of Iowa State University (2022) with a bachelor's degree in environmental science and a minor in horticulture. Kaitlin grew up on a small, diversified hobby farm in Iowa, where a deep passion for nature, science, and sustainable, small-scale agriculture was catalyzed. From there, she made it a personal goal to participate in interdisciplinary projects that work toward a sustainable future for diverse farmers. Kaitlin's research interests evolved as she progressed through her academic career, starting in agriculture and soil science, moving to plant biochemistry and climate change, and finally progressing to integrated pest management in organic farming systems. Kaitlin is currently a second-year Ph.D. student expanding her knowledge of fungal diseases in organic vegetable systems. She is working on a collaborative project, where she will work to increase the production of organic dry beans in the Northeast by enhancing management practices for white mold caused by the fungus, Sclerotinia sclerotiorum, that causes significant damage to bean yields in the United States and worldwide.
---
Event Sponsors
Graduate School Office of Inclusion & Student Engagement, Diversity Programs in Engineering, and the Cornell Chapter of the Bouchet Graduate Honor Society
Attribution Statement
This program was modeled in part after PROMISE: Maryland's NSF AGEP Summer Success Institute.
The launch and institutionalization of the Summer Success Symposium benefited from support from the 2016 ETS/CGS Award for Innovation in Promoting Success in Graduate Education and National Science Foundation under Award No. 1647094, CIRTL AGEP Transformation Alliance from 2016-2022. Any opinions, findings and conclusions or recommendations expressed in this material are those of the Cornell PI team and do not necessarily reflect the views of the National Science Foundation.
Previous Summer Success Symposium