Twelve Receive Awards Recognizing Inclusive Excellence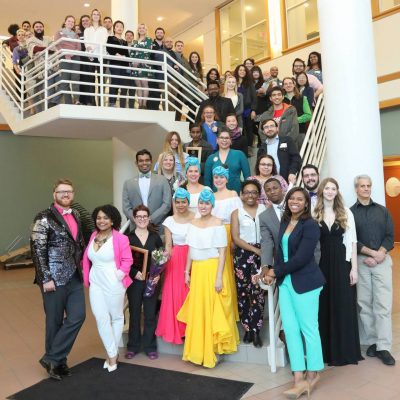 The Graduate Office of Inclusion and Student Engagement (OISE) and the Graduate and Professional Student Diversity Council presented their 2019 Distinguished Awards on April 30 at the Graduate Diversity and Inclusion Spring Recognition Banquet.
This annual event recognizes the excellence represented within the graduate community, and celebrates students for their academic, leadership, and service accomplishments, and for reaching milestones toward degree completion.
"The banquet provides a valuable opportunity to gather members of the graduate community to celebrate their achievements and recognize their significant impact at Cornell and within the broader community," said Sara Xayarath Hernández, associate dean for inclusion and student engagement.
The awards presented at the banquet honor members of the Cornell graduate community who have demonstrated a leadership and commitment to advancing efforts around diversity, inclusion, outreach, and student engagement. Faculty and staff were also recognized with awards for their unwavering commitment to diversity and inclusion, and promotion of the personal and professional development of graduate and professional students, especially those from backgrounds historically underrepresented within the academy.
"We had really outstanding nominee pools for each of the awards this year, which made the committee's job really difficult," said Nathan London, nomination committee co-chair and doctoral student in chemistry and chemical biology. "Everyone who was nominated for an award is doing amazing work with demonstrated impact."
2019 Award Winners:
Exemplary Service – Early Graduate Career Award: Janani Hariharan, doctoral student in soil and crop sciences
Exemplary Service – Advanced Graduate Career Award: Mariela Nunez Santos, doctoral candidate in biochemistry, molecular, and cell biology
Excellence in Leadership Award: Ekarina Winarto, doctoral candidate in linguistics, and president of the Graduate and Professional Student Assembly
Social Justice Award: Rediet Abebe, doctoral candidate in computer science
Community Outreach Award: Jayme Kilburn, doctoral candidate in performing and media arts
Unsung Hero Award: Tara Reed, conference coordinator in the School of Integrative Plant Science
Unsung Hero: Eric Maroney, graduate field assistant in policy analysis and management
Unsung Hero: Belinda Floyd, graduate field assistant in biomedical engineering
Junior Faculty Champion Award: Jamila Michener, assistant professor of government
Senior Faculty Champion Award: Susan Daniel, associate professor of chemical and biomolecular engineering
Senior Faculty Champion Award: Hadas Kress-Gazit, associate professor of mechanical and aerospace engineering
OISE also presented the Diversity & Inclusion Change Agent Award to Kelly Zamudio, Goldwin Smith Professor of Ecology and Evolutionary Biology. Recipients of this award demonstrate outstanding leadership and significant impact within the Cornell graduate community by increasing access, equity, and participation.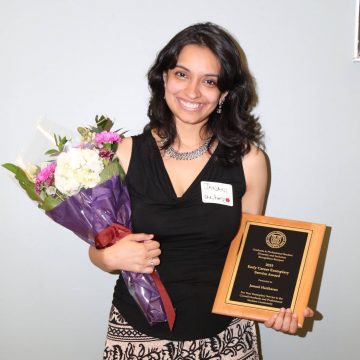 "I am very appreciative that the Graduate School presents these awards every year," said Janani Hariharan, recipient of the Early Career Exemplary Service Award. "The Spring Recognition Banquet always inspires me, and the Exemplary Service Award makes me want to give back to the community and learn how I can become an even better advocate and leader," she said.
For Jayme Kilburn, whose nominator stated, "Jayme is committed to breaking cycles of violence, harnessing the utopian power of theater to dramatize alternative worlds, and providing a platform for underrepresented people to share their stories in their own words," the Community Outreach Award celebrates the community-engaged work she has done through OISE and Engaged Cornell since arriving at Cornell.
"I am extremely grateful to have the opportunity and privilege to use performance as a tool for building communities," she said. "It was such a pleasure to have an evening dedicated to celebrating not only my work but the contributions of my fellow community-minded graduate students and faculty."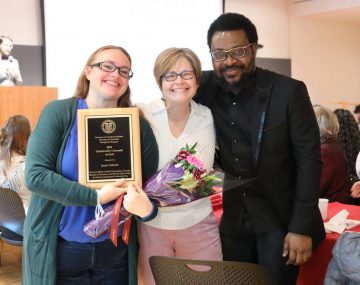 The Spring Recognition Banquet is co-hosted by OISE and the graduate and professional student organizations represented on the Graduate and Professional Student Diversity Council, including the Black Graduate and Professional Student Association; Cornell Latin American Student Society; Indigenous Graduate Student Association; Graduate Womxn in Science; GPSA Diversity and International Student Committee; Latin@ Graduate Student Coalition; Multicultural Academic Council; Society for Asian American Graduate Affairs; and Out in Science, Technology, Engineering, and Mathematics.
This year's event was also co-sponsored by campus partners, including Diversity Programs in Engineering, the Office of Global Learning, Johnson Office of Diversity & Inclusion, LGBT Resource Center, GPSA Student Advocacy Committee, Graduate & Professional Student Programming Board, GPSA Finance Commission, Women's Resource Center, and Feminist, Gender, & Sexuality Studies.