Zoom Fatigue? Not for This Graduate School Staff.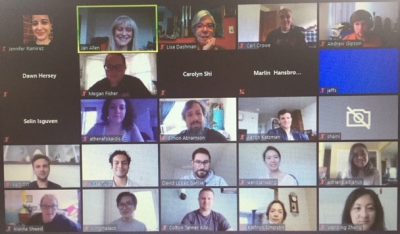 By Katya Hrichak
Reports of Zoom fatigue fill the news, bound up in the desire of many to return to life pre-pandemic. For some Graduate School staff, however, the use of digital platforms comes with more positives than negatives: Through Zoom, they are expanding their programs' reach and offering more students new opportunities.
Both Associate Dean for Academic and Student Affairs Jan Allen and Careers Beyond Academia Program Director for Experiential Learning Denise DiRienzo report that their workshops' attendance has more than doubled since all activities went remote.
Workshop leaders have been able to work around individuals' schedules in order to find convenient times that accommodate more students, and have even seen enhanced participation facilitated by the chat function.
"Students are thankful for the service during this 'stay at home' time," said DiRienzo. "With many of their normal activities on pause, they are working on career development, and it gives them the opportunity to understand the value of experiential opportunities and explore various pathways."
For DiRienzo, who has a background in online teaching, using her skills to modify presentations and encourage engagement through Zoom was an easy pivot. Since the shift to digital programming, Careers Beyond Academia has even increased the number of skill-building workshops to reach more students, including those from the humanities and social sciences– a goal they have been working to achieve since before the pandemic.
Open to all graduate students, one of Allen's recent events – a productive writing workshop offered at 9:00 p.m. – attracted nearly 200 participants.
"Participants said they were able to attend because their children were in bed at that hour or that they had no other conflicts at 9:00 p.m.," she said. "It was scheduled to end at 10:00 p.m., but at close to 11:00 p.m. we were still discussing productive writing and making progress to degree completion during this unprecedented time."
Although 200 participants is much larger than the average attendance, Allen said the transition to online programming was "easier than she thought" and "required no more effort than welcoming 20 people in-person."
From reaching new students to expanding program offerings to continuing the ever-popular Big Red Barn Trivia Nights, Zoom has allowed for graduate students to keep connecting and making progress together, even when physically apart.
"There has been such a camaraderie and generosity among our students in the workshops these past two months," said Allen. "The very best workshops have been when I realize, if I were to lose my internet connection, these wonderful graduate students will keep going with their thoughtful questions and lively conversations, offering strategies and encouragement to their peers, without me. I love it!"
Related: