Alumna/Postdoc Spotlight: Yoon Choi, M.S. '15, Ph.D. '17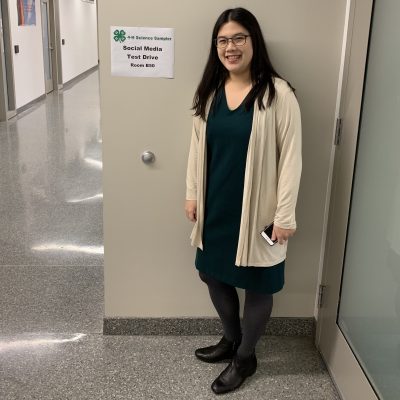 October 5, 2020
Yoon Choi, M.S. '15, Ph.D. '17, is a postdoc in communication from Seoul, South Korea. After earning her B.A. from Northwestern University and her M.A. and Ph.D. from Cornell, all in communication, she became a postdoc working on the Social Media TestDrive project. She is a recipient of a Postdoc Achievement Award as part of Cornell's celebration of National Postdoc Appreciation Week 2020.
What is your area of emphasis? Why is this work important?
Broadly, my research examines how people conduct social interactions and share personal information on social media and the effect of these processes on people's well-being. Since I received my Ph.D. and started this postdoc, my focus has shifted a bit to exploring how we can prepare and educate youth before they enter the social media world. I currently work on a project called Social Media TestDrive, an educational program that lets young people learn and practice digital citizenship skills through a social media simulation. You can learn more about the project and try out our lessons on the Social Media TestDrive website.
What inspired you to choose this field of study?
I grew up in South Korea, which had widespread broadband Internet access from very early on. Koreans even had social media long before Myspace and Facebook! In high school, everyone was obsessed with Cyworld (a Korean social media site) and I remember thinking that I wanted to learn more about the science behind online communication. This motivated me to major in communication studies in college at Northwestern University. While I was there, I worked as a research assistant in Dr. Eszter Hargittai's Web Use Project research group and was exposed to social science research. I ended up deciding to go to graduate school to pursue a Ph.D. in communication here at Cornell University.
What does receiving a Postdoc Achievement Award mean to you?
I am especially honored to receive the postdoc achievement award in Community Engagement. It never ceases to amaze me that Social Media TestDrive has been used by tens of thousands of young people all over the world. A little closer to home, our team and I worked to deliver the Social Media TestDrive program to afterschool groups in Ithaca serving minority and immigrant youth. I really enjoy the real-world impact that this project has, knowing that we are having a positive influence on young people's lives by educating them on how to use social media in a healthy and productive way.
What hobbies or activities do you enjoy in your spare time?
I like to do indoor activities such as reading, hanging out with my cats, cooking, and eating. I enjoy the physical act of writing (letters, journals, etc.) using my modest collection of fountain pens.
Why did you choose Cornell?
In a way, I chose Cornell twice, once for my graduate studies and once again for my postdoc. One thing I really appreciated about Cornell is the vibrant mix of scholars and disciplines in the department of communication. I was also fascinated by the work that was being done in the Social Media Lab, and that still holds to this day.
What is next for you?
In October, I will be moving to the Washington, D.C. area and finishing my postdoc work remotely until the end of this year. I will also be using this time to prepare for a career transition and find work in project management, hopefully working for a nonprofit or government organization.
Do you have any advice for current graduate students?
If you decide to apply for postdoc positions, don't be afraid to step outside of your comfort zone, whether it is the discipline, content area, or tasks that you would be expected to complete. I was able to learn so many new skills in my postdoc, including but not limited to translational research, outreach, and project management. Also, have at least one day of the week where you rest, recharge, and do absolutely no work at all; no emails, no academic reading, nothing. It has really done wonders for my mental health.