Alumna Spotlight: Grace Bulltail, Ph.D. '17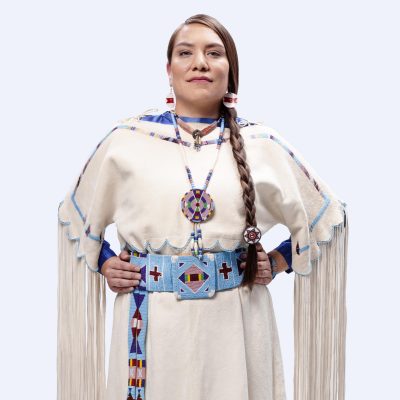 November 16, 2018
Grace Bulltail, Ph.D. '17, is an alumna of the biological and environmental engineering program at Cornell, from which she holds a Ph.D. Prior to enrolling in her doctoral program, she graduated from Stanford University with a bachelor's degree and earned masters degrees from the University of Montana and Columbia University. Since leaving Cornell, she has returned to Stanford University where she now works as a California Alliance postdoctoral scholar.
What fueled your interest to work in this industry?
I am a civil and environmental engineer and I have worked on water infrastructure projects. I have been interested in increasing water resource management capacity for underserved communities, with most of my professional experience having been in working with tribal governments.
What is the most rewarding part of your work in this position?
I enjoy working with my current advisor, although I am not in an engineering department. I feel it is important to be working in the western part of the country where water resources are relatively scarce and issues impacting the arid West are emphasized. I appreciate being back on the Stanford campus and in the community where I completed my undergraduate degree.
How did your Cornell graduate education prepare you to succeed professionally?
My research work at Cornell allowed me to develop as a researcher. My doctoral committee was interdisciplinary and provided valuable insight into my research.
What skills did you take away from your degree program that help you in your career?
I was able to complete laboratory work and analysis that informed my understanding of water quality. I appreciate the help and training my fellow lab mates were able to provide in completing my research at Cornell.
You were recently recognized at the Grace Hopper Conference. What is the Grace Hopper Conference?
The Grace Hopper Celebration of women in computing is the largest gathering of women in technology with an estimated 18000 attendees. I was profiled for an exhibition at the conference featuring women in technology and science. The majority of the women profiled in the exhibit work for the tech industry in and around the Bay Area and Silicon Valley.
What book is currently on your bedside table?
How to Read Water by Tristan Gooley.
If you could go back in time to the beginning of your graduate career, what advice would you give yourself?
I would have considered attending Cornell at the start of my graduate career as opposed to receiving master's degrees at other institutions. I would have searched out funding and professional development opportunities that I eventually found at Cornell to support my graduate career.