Alumna Spotlight: Jane Levya, M.A. '20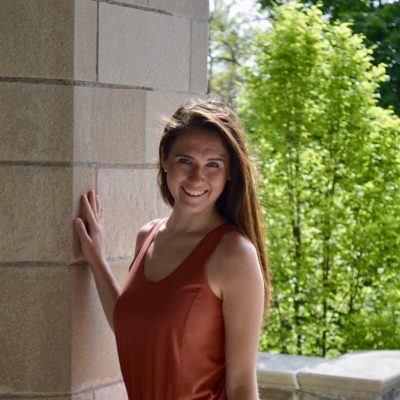 June 15, 2020
Jane Levya, M.A. '20 is a recent alumna of the fiber science and apparel design program at Cornell from which she holds a master's. Having earned an A.A.S. from the Fashion Institute of Technology, a B.S. from the State University College at Buffalo, and her recent M.A. from Cornell, she will be launching a podcast on activism and completing the TEFL certification.
What is your area of research and why is it important?
My research explored the history of National Park Service uniforms as well as their current use, design and fit issues, and park rangers' experiences wearing the uniforms. Recommendations for improved uniform design were developed, and this research also focused on women as a historically underrepresented group. Uniforms serve an important function to our society and culture.
What are the larger implications of this research?
Clothing has a range of applications from use and function, material culture and identity, to the labor involved and environmental impact. Implications of this research challenge us to examine clothing within a highly dynamic process – not a static one. By analyzing our historical past, observing, and opening dialogue to the present, we can make sound decisions. This is a first step in a larger process, which moves us toward socially and environmentally responsible ethics for future generations.
What inspired you to choose this field of study?
Prior to Cornell, I worked in the fashion and outdoor apparel industry. Prior to that I took the meaning of fashion (a verb) quite literally, and knew I wanted to be in this area from roughly age five. Today what inspires me are product design principles which enable users to enjoy, appreciate, and value natural environments. Academia and this field of study serve a critical role in the ethos of design.
What was the process like of adapting your defense to an online platform?
I am proud of the Cornellian resilience and leadership during this transitional period which made the adaptation to a digital platform a natural progression. If I had been asked two years ago how I would prepare for my thesis defense, I would not have said furniture rearrangement, lighting, and doing sound checks in my apartment would be part of this. Leading up to the defense my fellow classmate and I did a virtual run through of each of our presentations. This enabled us to practice how we wanted ourselves and presentation to appear in screen format. Even though we were miles apart and in new and different spaces, the support and connection was helpful, valued, and cherished.
How did it feel to pivot to an ultimately successful online defense?
In the moments that followed with congratulatory Facetimes, phone calls, text messages, and virtual happy hours I was reminded of something I will forever hold close and certainly never let go of: the human spirit. We are social beings at our core, and we need each other during both uncertain times and celebratory moments.
What are your hobbies or interests outside of your research or scholarship?
I enjoy anything under the umbrella of outdoor recreation, mostly hiking, distance running, and am a proud surfer (in training). I completed the Chicago and NYC marathons, and being one among a literal mass of humanity all running towards a common goal to cross the finish line was an indescribable experience. Boston, you're next!
Why did you choose Cornell to pursue your degree?
I chose Cornell to obtain a broader and more thorough perspective within my field, at a world-renowned institution which fosters multidisciplinary research and creative scholarship. Cornell boasts top researchers, a diverse and international study body, and is within an activist-minded community. The College of Human Ecology mission of "improving lives by exploring and shaping human connections to natural, social, and built environments" and Ezra Cornell's founding mission, "any person can find instruction in any study", made it clear that Cornell would be the place to gain the knowledge I needed to pursue my passion. Of equal importance are the natural environments which Cornell is situated – Ithaca Is Gorges.
If you could go back in time to the beginning of your graduate career, what advice would you give yourself?
Throw away your best attempt at being conventional. Creativity, nonlinear thinking, and a healthy dose of introversion, spontaneity, and adventure are some of your greatest qualities (not your weaknesses). Onward!
Is there anything I haven't asked or anything you'd like to add?
I think it's important to remember that adaptation during a pandemic looks different for each and every one of us. Our neighbors, our friends, our family, our loved ones are navigating this new frontier the best we all can. We each experience and feel differently, and our circumstances vary (sometimes on a daily or even hourly basis). For me, adaptation meant maintaining some level of normalcy in my daily routine while making new adjustments in the process and following guidelines of public health officials. This now includes running with a mask outdoors. Running outside, getting enough sleep, and consciously eating breakfast have been important aspects of keeping my balance as a graduate student.
Now that you have graduated, what are your plans?
I am in the process of launching a podcast on activism and am also completing TEFL (Teaching English as a Foreign Language) certification to continue my engagement with international students and interests in social and environmental justice.