Alumna Spotlight: Yun Ha Hur, Ph.D. '21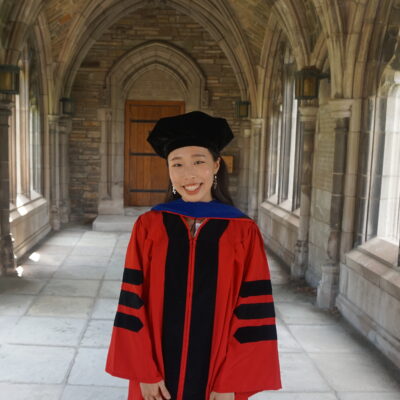 February 13, 2023
Yun Ya Hur, Ph.D. '21, is an alumna of the biomedical and biological sciences program at Cornell, from which she earned a Ph.D. She is now a postdoctoral fellow at Rockefeller University.
What was your research focus at Cornell?
Stem cells within embryos are known to possess the ability to differentiate into virtually any cell type in the body upon receiving signals, namely pluripotency. While this process needs to be tightly controlled for normal development to occur, the mechanisms that underlie these critical cell fate decisions, particularly how stem cells maintain their pluripotency, remain poorly understood. During my Ph.D. at Cornell, I discovered that embryonic stem cells, the in vitro equivalents of stem cell populations within the embryo, form and release membrane-enclosed packets of information, referred to as extracellular vesicles (EVs), to maintain their pluripotency.
What is the broader implication of this research and how is it making an impact?
The findings that I made during my dissertation shed light on how a unique form of intercellular communication has important consequences in early development. Moreover, it raises an exciting possibility that the stem cell derived-EVs can potentially be used for therapeutic applications in regenerative medicine, where the underlying concept involves repairing or replacing damaged tissues to help them regain as much of their original functions as possible.
Tell us about your current position and what you find rewarding about it.
After I received the Ph.D. degree, I wanted to continue pursuing my career in academic research, further exposing myself to diverse research topics and obtaining more experience in translational science. To achieve that goal, I'm now a postdoctoral fellow at Rockefeller University under the supervision of Elaine Fuchs, studying how the aging tumor microenvironment impacts cancer progression. Since conducting research is always trial and error, the process itself didn't get any easier after I got the degree. However, delving into the challenging questions and digging up the clues to reach a conclusion is fascinating.
What does it mean to you to have been selected as a finalist for the SUNY Chancellor's Dissertation Award?
Being selected as a finalist for the SUNY Chancellor's dissertation award means a lot to me, especially from the perspective that my research could be appreciated not only by stem cell scientists but also by people outside my field. While I would be excited by any new findings that I made, even if they are tiny, I believe that the discoveries in biology can make the greatest impacts and benefit more individuals when acknowledged by the broader group of audiences from diverse areas.
What will this award allow you to do that you may not have otherwise?
The award will provide me with various professional development opportunities, particularly several scientific conferences where I can communicate with researchers in the field so that I can polish my path to reach my scientific and career goals. But more importantly, the news itself that I was selected as a finalist was already huge to me. As a beginning postdoc in a competitive big lab in a completely new environment, I inevitably kept doubting myself about whether I was at the right place. This award allowed me to remind myself about how much I enjoyed science during my dissertation and how easily I can be excited by even small successes in simple experiments, as well as the fact that I could also be a pretty good scientist. That meant much more than anything to me.
If you could go back in time to the beginning of your graduate career, what advice would you give yourself?
If I had a chance, I would like to tell myself that there is also life outside the lab (haha). Not that I regret spending most of my time in the lab during the Ph.D., since I truly enjoyed it, but I guess there are certain things that you can enjoy only at that moment. I made some of my friends surprised when I told them I had never been to any of the wineries in the Finger Lakes region during my five years in Ithaca. (I did visit one two days prior to my last day!) Ithaca is beautiful, and balance is always appreciated.