Student Spotlight: Akhiles (Danny) Sindra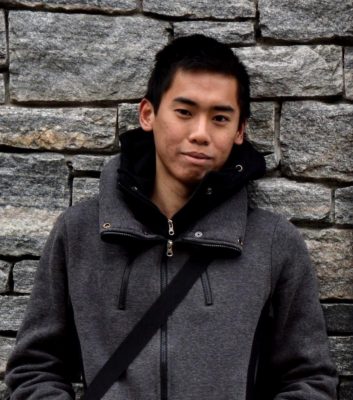 Akhiles (Danny) Sindra completed his MPS in Information Science in December 2015. This past fall semester, Sindra created a mobile application called C.U. in Nature to accompany the Nature Rx Cornell initiative, which was developed to help students reduce stress and improve health by interacting with nature.
Congratulations on completing your MPS in Information Science! What was your area of research?
Thanks! My study mainly focused on mobile and web development. Specifically, I am interested on developing real-time, data-driven, and interactive applications.
What inspired you to choose this field of study?
I chose Information Science because of its rare breed between computer science and interaction design fields. My work experience as a software engineer in Indonesia made me realize that developing both quality front-end and back-end will ensure the greatest user experience for the customers. There are lots of good technology companies these days and to stand out in the competition, I believe having skills both at designing and developing software will be an absolute requirement.
Why is this research important?
This research is important because the trend of application has rapidly moved from desktop to web and mobile platforms. Service-based companies like Amazon Web Services, Airbnb, and Uber are getting more popular these days due to their flexibility and practicality. However developing web and mobile products has its own challenges, like reliability, security, and performance issues. Understanding the underlying problems and finding out how to tackle them will be important to ensure great user experience and retention.
How has your background influenced your scholarship?
I finished my Bachelor's Degree of Computer Science in Indonesia. At that time, the Indonesian government was aggressively giving scholarship for students to take graduate studies inside and outside the country. I was so fortunate to be one of the thousands of Indonesians selected. Studying overseas had always been my dream since I studied at undergraduate school.
What else has influenced your thinking as a researcher or scholar?
My professors and classmates, for sure. During my studies at Cornell, I met many intelligent yet humble people. One of the important lessons was about failing and improving fast. I used to think of failure as a bad thing to be avoided at any cost; but now I realize that failing allows me to find solutions much faster rather than being cautious. I think it is a privilege that only students have.
Why did you choose Cornell to pursue your MPS?
I set four criteria when choosing universities: curriculum, facilities, rank, and people's recommendations. Cornell University met all the criteria, especially for the program's curriculum—it has classes that are in line with my interests. Coming from Indonesia, I also liked the fact that Cornell has lots of beautiful natural areas. I've had a great time hiking, camping, and taking pictures around Cornell and Ithaca.
How did the idea come about to develop the C.U. in Nature app? What was the process of creating it?
The idea first came from Professor Donald Rakow and his colleagues at the Plant Science department. Along with other Cornell faculty, staff, and students, they are developing a Nature Rx model in our campus to improve students' physical and mental health through their engagement with nature.
During my first meeting with Prof. Rakow, we discussed a lot about the possible features to include in the app. Its main purpose is to encourage students to explore natural sites on Cornell's campus. We started by making a simple mockup to visualize the main features like displaying the sites on the map with directions, listing possible outdoor activities, and presenting appealing photos. After we agreed on the core design, I started building a simple prototype of the app. It took around one semester to polish up the features and user interface until we eventually launched the first version in October 2015.
How does the app work? What is it used for?
C.U. in Nature provides users with a listing of natural sites at Cornell along with possible activities they can take part in. During special occasions, the app will feature outdoor events that the user can join. We will be collaborating with student clubs and organizations to get them to share their events there. Another useful feature is that the app also provides a map with directions from the user's current location to each site, so that the user can explore new sites without fearing getting lost. Users also have the ability to upload photos and provide reviews similar to apps like Yelp and Airbnb, allowing students to encourage one another and feel proud about being outdoors.
Who is using the app?
Currently we are targeting undergraduate students who just entered Cornell, because they are still new to the campus area and are very willing to explore. By introducing them to natural sites as early as possible, we hope that they can find their own favorite spots to keep returning to—especially when they get stressed once the study period starts.
While we are limiting users to those who have Cornell e-mail addresses for now, we plan to open up the registration to the public once the app gets more mature. I also heard that in the future, Cornell Health might include this app as an additional prescription to help students who are facing stress-related issues during their studies here.
Why is this app important?
Simply because the developers really care about you want to keep you healthy. We are trying to tackle one of the biggest problems at Cornell: the stressful academic environment. It really struck me that some Cornell students don't even know about half of the natural areas on campus. Visiting these places can really make their experience at Cornell more enjoyable!
Even if you feel already feel comfortable about being outdoors, we encourage you to try C.U. in Nature. Share your outdoor adventure photos, and write some helpful tips or activity recommendations for other users of the app. Let it be contagious to the community.
What do you hope lies ahead for this app? Are there expansion or update plans?
Since I graduated last December, I will continue to contribute to the app as technical advisor. Future software development will be handled by the Cornell Student Services IT division. During my last discussion with Phil Robinson (the assistant director), we came up with some ideas like adding push notifications, suggesting nearby natural areas based on GPS and weather, expanding the list to include more exotic natural sites and their hiking trails, and so on. There are lots of things to improve on and I encourage everyone, especially designers and developers, to help out.
What's next for you?
I am planning to find a job in front-end engineering, and I'm mainly looking at big data companies. Building a fast, meaningful, and interactive data visualization will be a good opportunity to test out my knowledge and skill. In the meantime, I plan to take some time off to enjoy my other hobbies like writing and photography.
Interview by Sally Kral, communications and outreach assistant in the Graduate School