Postdoc Spotlight: John J. Michael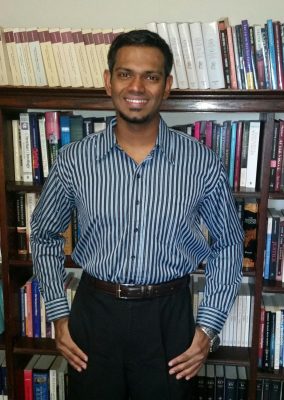 John J. Michael is featured as part of Cornell's Postdoc Appreciation Week 2017.
What is your area of emphasis? Why is this work important?
I'm a teaching postdoc and my work focuses on implementing teaching techniques that promote active learning in both small (~20 students) and large (~450 students) classes. One technique that I use extensively is cooperative learning, where students learn from one another by working in small groups to test their understanding. Facilitating such interactions among students reduces the monotony of passively listening to lectures, promotes higher-order thinking, and ultimately opens opportunities to appreciate diverse perspectives. To effectively implement such teaching techniques, it is important to fine-tune them by considering factors such as class size, demographics, course content, etc.
What inspired you to choose your field of study?
My experiences both as a student and as a teaching assistant (TA) inspired me to choose my field of study. When I was a student, on several occasions I mentally "checked-out" thinking to myself "I'll read up on the material later." Consequently, I spent more time trying to learn those concepts because they were not presented in a manner that caught my attention and kept me engaged. However, when I was a TA in grad school, I realized that I too was guilty of the same thing when I noticed students either fighting to stay awake or dozing off in my class! I have found that by using active learning techniques students can be motivated to stay engaged in classes and make the most out of in-class interactions with their peers.
How has your background influenced your scholarship?
Teaching was something that "ran in the family": My paternal grandparents were both teachers and so was my maternal great-grandfather. However, I realized my passion for teaching only when I started working as a graduate TA at Washington State University. One of the most cherished skills I learned in grad school was to think critically and as a TA I wanted to foster this among my students. After serving as a TA on eight occasions, in my final semester at Washington State University, I received a TA Excellence Award which made me consider pursuing a career in teaching.
What else has influenced your thinking as a researcher or scholar?
My current philosophy on the implementation of active learning techniques have been greatly influenced by the resources offered by Cornell's Center for the Integration of Research, Teaching, and Learning (CIRTL at Cornell). Through CIRTL at Cornell, I participated in two workshops on evidence-based STEM teaching that helped me strengthen my understanding of active learning techniques. I have been able to implement these techniques in the classes that I teach and also train my TAs in this regard.
What other hobbies or activities do you enjoy in your spare time?
I play the trumpet at local Christian events in Ithaca. I also enjoy running because it allows me to listen to Japanese and Mandarin lessons and maintain my conversational skills. I am a huge fan of Washington State University's football team.
Why did you choose Cornell?
Cornell University is one of the few places in the U.S. that offers teaching postdoctoral/instructor positions that allow fresh Ph.D. graduates to gain experience in managing large classes. Moreover, the vast resources available through CIRTL at Cornell allow candidates to hone their skills in teaching, develop their teaching portfolio, and leverage diversity in the classroom.
What's next for you?
I am looking forward to applying for teaching faculty positions at universities and four-year schools.
Do you have any advice for current graduate students?
Make time for family/friends despite all the pressures of graduate school.
Don't lose the art of accepting criticism because that is the only way you will keep growing.
Interview by Sally Kral, communications and outreach assistant in the Graduate School