Student Spotlight: MacKenzie Pierce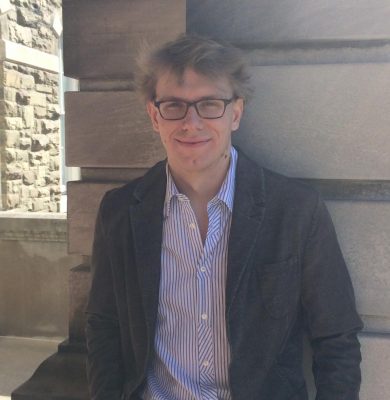 What is your area of research?
I'm a musicologist and my research focuses on a generation of Polish-Jewish musicians born near the turn of the 20th century. I follow this group of composers and musical intellectuals from their studies in the 1930s, through World War II and the Holocaust, into postwar Stalinist reconstruction. These figures led fairly international lives, so my research travels with them between Lwów, Warsaw, Paris, New York, and Moscow. I'm examining how wartime experiences forced these musicians to reconsider their identities and to look anew at Polish society, leading some toward a faith in the redemptive power of communism while pushing others to seek refuge abroad.
What inspired you to choose this field of study?
When I began my undergraduate studies, I intended to become a professional cellist, but I was quickly smitten by musicology. After I graduated, I lived in Kraków for a year and I began to learn Polish. I arrived at my current area of research with help from my mentors—especially Annette Richards at Cornell and Barbara Milewski at Swarthmore College.
Why is this research important?
This research examines the social function of music under repression and persecution. How did artists employ music to respond to anti-national and racist violence? By the end of 1944, Warsaw was decimated and its inhabitants had suffered an incredible amount, so I also show how artistic traditions aided in the reconstruction of societies that have faced widespread destruction. Cultural traditions, and music in particular, are often overshadowed by the political history of postwar Europe, but they played a vital role in recovery from wartime traumas.
How has your background influenced your scholarship?
I am often asked if I have a Polish grandmother or other family connections to the country. I don't. I hope the fact that I became fascinated with Poland as an adult helps bring unexpected perspectives to my research.
What else has influenced your thinking as a researcher or scholar?
I can't overstate the importance of Cornell's outstanding Polish language instruction, spearheaded by Ewa Bachminska.
You recently traveled to Warsaw, Poland, on a travel grant from the Graduate School. How was your experience there?
The grant allowed me to consult collections held in the Archive of Polish Composers at the University of Warsaw Library. I read the papers of two musicians; both survived the Holocaust through a combination of ingenuity and luck. After WWII, they both worked in Polish diplomacy. The first composed an opera as a monument to the Jewish people, eventually abandoning his diplomatic post to stay in the United States, while the second became an ardent communist and Poland's leading Marxist musicologist. I tried to better understand how these two figures conceived of the future direction of Polish music in the immediate postwar years.
In what ways was the research you conducted on this trip vital to your scholarship?
This trip allowed me to carry out in-depth work with primary sources and hence better understand the political and artistic decisions made by two key protagonists of my dissertation. Since these sources have not been published or digitalized, it was essential to consult them in Warsaw.
What opportunities did the travel grant provide for you that you perhaps wouldn't have had access to otherwise?
Without locating and critically attending to new sources, scholars tend to recycle the same narratives about music and politics in the twentieth century. In this sense, travel funding is absolutely critical. In addition, this travel grant allowed me to meet Polish scholars—both professors and graduate students. Without making this type of connection, it's easy to overlook the diversity of conversations taking place in musicology across the globe.
Any advice for other graduate students interested in applying for research travel grants?
When working on a research project day in and day out, one is often lost in the details. Grant writing offers an opportunity to think about the big picture and to communicate your fascination to an intelligent readership from a different intellectual background.
Why did you choose Cornell to pursue your Ph.D.?
Cornell's musicology program is outstanding.
What's next for you?
Writing. In Warsaw, I found some interesting materials and under-appreciated musical compositions, but now the real work begins!
Interview by Sally Kral, communications and outreach assistant in the Graduate School