Postdoc Spotlight: Anand Kumar Mishra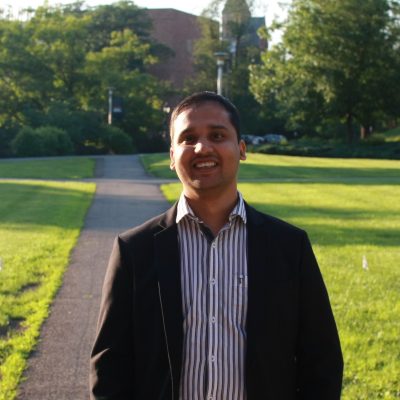 October 3, 2022
Anand Kumar Mishra is a postdoc in mechanical and aerospace engineering from Dishini, a small village in northern India. He holds degrees from Italian Institute of Technology, Genova, Italy, and Scuola Superiore Sant'Anna, Pisa, Italy, and his research at Cornell focuses on bioinspired soft robots.
What is your research area of emphasis?
I am a roboticist. I work on bioinspired soft robots. I enjoy looking at biological principles and translating them into new robotic solutions because nature is, I believe, the best source of learning and realizing something beautiful at par with the current technology in a sustainable manner.
At Cornell, I categorize my research focus into three categories: bioin, agricultural robots, and living robots. For example, one of the projects I am working on is developing a worm-like robot that can potentially communicate with plants one day. I wanted to mention CROPPS. It is a new center at Cornell funded by the National Science Foundation, which I am part of as a trainee. Here I work with transdisciplinary groups. The projects I am working on are next-generation technology for digital biology and agricultural science.
What are the broader implications of this research?
I do multidisciplinary research that combines interests in biology and engineering. My research could have broader implications on health, agriculture, and space. For example, one of my current projects is building soft robots that could help farmers in the field and improve crop yields. Moreover, these technologies have the potential to be translated into the health care field, such as surgical robots or even could be a potential solution for space agriculture and digital biology.
As a multidisciplinary researcher, one of the key lessons I learned from nature is sustainability. I believe this could be a great lesson for developing future technology, which even helps address climate change and food security, especially through robotic science.
What have you gained by participating in the NextGen Professors Program?
I was part of the 2020-2021 cohort. I want to enter academia after my postdoc. One of the most important questions I have always had is about challenges after starting an academic position as a young faculty, and this is what makes the NextGen Professors Program unique. There were several occasions where we had an opportunity to hear from young faculty. For example, they talked about what their challenges are and how they navigate as an early-stage faculty, adjusting to new work culture, how to win the first grant, how to develop interdepartmental collaborations, maintain work-life balance, understand the role of diversity, equity, and inclusion (DEI), and why it matters. I am glad I was part of it and thankful to every organizing team member.
How has this program been helpful in working toward your professional goals?
My answer will be the like the previous one. The experiences I have gained became quite helpful. I started building my academic portfolio. I began working on mentoring skills, developing grant writing skills, creating collaborations, and involving myself in DEI programs. Other lessons I learned are how to choose the institute of my fit and what ways I prepare to apply. After applying and starting my academic career, I hope these experiences will help me.
What hobbies or activities do you enjoy in your spare time?
I like cooking. I mostly cook Indian and Italian cuisine. Whenever I am stressed out, cooking helps me to release my stress.
Why did you choose Cornell?
I joined Cornell as a non-degree graduate student in 2017 while pursuing my Ph.D. research in Italy. I was a visiting research student at the Organic Robotics Lab under Professor Rob Shepherd. I would say it was a dream come true to work with him. I still maintain the amount of energy and confidence I gained in that short period. I believe the reason is the work culture, extensive support from my current supervisor, and peer support, and I always wanted to return to this group after graduation. I joined as a postdoc in November 2018.
Besides that, I liked Cornell's work culture and academic diversity. As a postdoc, I have made several collaborations through different disciplines, from horticulture science to plant science, from mycology to neuroscience and engineering. I believe it is one of the rarest combinations of having such academically diverse research groups in one place. It makes Cornell unique. Everyone here values your ideas and wants to help, which always amazes me.
Do you have any advice for current graduate students?
Cornell is an amazing place. You can find amazing people and opportunities. There are ample resources that can help with personal to professional development. The academic diversity is exceptional. Everyone here is open to hearing, connecting, and discussing your research or even personal issues.