Postdoc Spotlight: Eleanor Paynter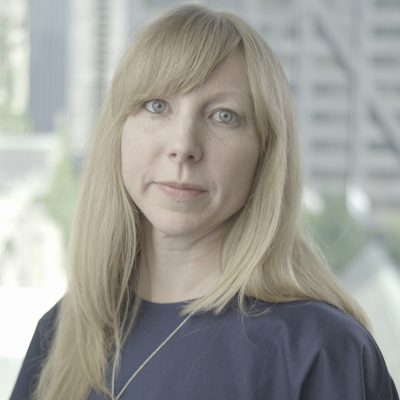 September 19, 2022
Eleanor Paynter is a postdoc at the Mario Einaudi Center for International Studies from Texas. She holds a Ph.D. in comparative studies from the Ohio State University, and her research at Cornell focuses on migration and its representation in literature, film, and media. She is a recipient of a Postdoc Achievement Award for Excellence in Mentoring as part of Cornell's celebration of National Postdoc Appreciation Week 2022.
What is your area of research, scholarship, or work and why is it important?
I study migration and its representation in literature, film, and media. I'm especially interested in shedding light on the oppression and withholding of rights of people in transit and the intertwined issues of migrant justice and racial justice. I aim for this work to expand understandings of mobility and belonging beyond default cultural narratives, which often treat migrants and border crossing as problems. My current projects focus on these issues through a study of contemporary Mediterranean migration in Italy, looking at how colonial history and its representation or absence in dominant Italian and European discourses shapes the experiences of migrants from former colonies. It's important to me to work with migrants in this research, and so my work brings together ethnographic and oral history practices with the study of different cultural texts produced by newcomers in Europe.
What are the broader implications of this research, scholarship, or work?
These questions are especially important to take up in an era of rising nationalism and restrictive and deadly border policies. It's important to understand how the policing of mobility reifies problematic notions of who belongs – who is a citizen, what it means to be foreign, and what labels like "refugee" mean in different contexts. And in my work I pay particular attention to how people crossing borders themselves frame their movements, their understandings of rights, and their ideas for the future. These ideas emerge in different ways in interviews and in cultural texts. I'm interested in how better understandings of border violence and responses to it take shape in everyday practices, through activism, and through literature, film, and art that challenge ideas of national identity and reveal the gaps of collective memory.
What does receiving a Postdoc Achievement Award mean to you?
Teaching and working with students is hugely important to me, and it's such an honor to be recognized for mentorship. I see this award as a recognition of the significance of student-driven, student-centered mentorship. Supporting students in building community around migration studies, getting to work with students who represent such a range of interests, and facilitating some of their engagement with migration issues and research has been a highlight of my time at Cornell, and it's truly credit to the students themselves. I also see this award as recognition of the mentorship I've received, and I'm thankful for the people who have taught me what good mentorship can be.
What hobbies or activities do you enjoy in your spare time?
We're in Ithaca! Hiking, of course, and cooking out.
Why did you choose Cornell?
I joined Cornell near the beginning of the Migrations Global Grand Challenge, and this was an incredible opportunity to develop my own research while working with such an ambitious and exciting initiative that embraces multi-disciplinary approaches to migration studies.
What is next for you?
This year I'm focused on research, thanks to an ACLS Fellowship. I have a draft of my first book, am working on several related pieces, and am starting a new project. I'm excited to continue to collaborate with the Migrations initiative (new podcast season starting soon!).
Do you have any advice for current graduate students?
It's never too early to think about your post-Ph.D. trajectory: Look at job ads, go to conferences, think about practical uses for those seminar papers, soak up advice before you're pressed to put it into action. And also: Don't get so tied to a single project that you miss the chance to read and think widely, to be in conversation with people doing fascinating work in other areas, or to find and nurture your creative side.