Postdoc Spotlight: Prasanthi Koganti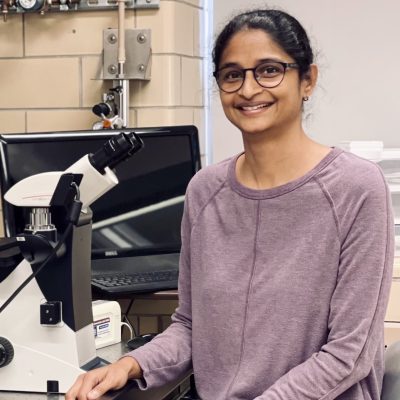 September 19, 2022
Prasanthi Koganti is a postdoc in animal science from Eluru, Andhra Pradesh, India. She holds a Ph.D. in genetics and developmental biology from West Virginia University, and her research at Cornell focuses on understanding basic cellular mechanisms with a current emphasis on steroid hormone synthesis and regulation. She is a recipient of a Postdoc Achievement Award for Excellence in Mentoring as part of Cornell's celebration of National Postdoc Appreciation Week 2022.
What is your area of research, scholarship, or work and why is it important?
I am a "molecular detective" – I am interested in understanding basic cellular mechanisms. Currently I am investigating critical steps in steroid hormone synthesis and its regulation. The early biochemistry for the synthesis of steroid hormones is common for hormones like estrogen, testosterone, and cortisol and occurs in the mitochondria. Problems with steroid hormone production can have broad ranging effects from infertility, salt wasting syndrome, and disrupted systemic metabolism. The precursor for all steroid hormones is cholesterol, a molecule that needs support for travel to mitochondria – as it is extremely hydrophobic. Through my research, I am establishing this transport mechanism that also regulates the rate of steroid hormone synthesis. Simultaneously, I use systems biology approaches to derive predictive understanding from omics datasets to understand aspects of cellular gene regulation and epigenetic reprograming. Investigating fundamental questions like how molecular mechanisms orchestrate cellular and organ functions is important to advance scientific understanding and discovery.
What are the broader implications of this research, scholarship, or work?
Understanding cellular cholesterol and lipid metabolism is important for overall human health and strategies to improve the "healthspan". Free cholesterol is necessary for cellular functions like maintenance of cell membranes, steroid hormone synthesis, bile synthesis, and cell signaling. However excess cellular storage of cholesterol and lipids can have adverse health consequences like in non-alcoholic fatty liver, atherosclerosis, lipid metabolism, and much more. Our work, albeit fundamental, can be translated to understand systemic regulation of cellular cholesterol and lipid metabolism.
What does receiving a Postdoc Achievement Award mean to you?
I cannot express how grateful I am to be nominated for and receiving this award. I have benefited from working with great mentors who believed in me and took me under their wing. After joining the Selvaraj Lab of Integrative Physiology, I was encouraged to be actively involved in mentoring and I really believe that I have gained a lot from such opportunities. I find joy and motivation working with and training undergraduate and graduate students and hope to continue doing so in the future.
What hobbies or activities do you enjoy in your spare time?
I enjoy cooking and baking; they are like science experiments. If I have a hard day in lab with negative results, I end up experimenting in my kitchen. The good thing about that is I get to eat at the end. I also enjoy reading books, learning new skills like painting and knitting, and love gardening. The joy of bringing fresh produce to the table is extremely satisfying. I grow some tropical crops to have a small part of my hometown with me.
Why did you choose Cornell?
I came to Cornell because of the Selvaraj Laboratory of Integrative Physiology; I was drawn by different projects that the lab was focused on, and I seized the opportunity to expand my expertise and scientific understanding.
What is next for you?
I want to continue to advance our understanding of living systems using systems biology and discovery research. In future I would like to co-create interdisciplinary research programs that nurture curiosity and offer a solid training platform for students.
Do you have any advice for current graduate students?
Remember that a professor who challenges you really wants you to learn and succeed. They share your love for research. Therefore, it is best to be self-aware, take responsibility, and cultivate curiosity. Do not be afraid of failures and to ask for help when needed. While research can keep you going, it is also important to take breaks and do something you would enjoy.