Postdoc Spotlight: Sarah Gilbert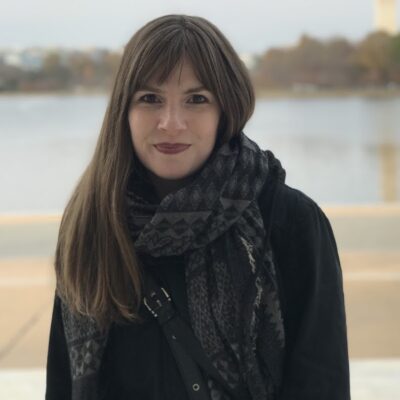 September 29, 2023
Sarah Gilbert is a postdoc in communication from Halifax, Nova Scotia, Canada. She holds a Ph.D. from the University of British Columbia, and her research at Cornell focuses on collaborative methods to support equitable and safe participation in online communities. She is a recipient of a Postdoc Achievement Award for Excellence in Leadership as part of Cornell's celebration of National Postdoc Appreciation Week 2023.
What is your area of research, scholarship, or work and why is it important?
I use collaborative methods to support equitable and safe participation in online communities by conducting research in two key areas: content moderation and data ethics. To ensure the safety of their platforms, big tech companies rely on millions of paid and volunteer content moderators who remove harmful content online, often at the expense of their mental health. I work with volunteer moderators to understand more about what they do, where they are successful in reducing harm, what challenges they face, and how tools or other interventions can help these groups support safer online spaces. Scientific research also plays a key role in keeping online spaces safe. However, this requires access to data, which platforms are increasingly resistant to provide. I explore how researchers' access data and social media users' comfort with research use of their data, providing key insights into how to ethically support data access and use.
What are the broader implications of this research, scholarship, or work?
My research has impacts across three strata: individuals and online communities, platforms, and policy. Content moderation research has found a lot of failures in the practice; most notably, sanctions for violating website rules often disproportionally affect marginalized people. By working with moderators, I show why and how this happens so that we can design better tools and recommend better practices that create more equitable online spaces. My work also has platform implications. This summer, when Reddit announced changes to its API (the interface through which people access the site's data) I led a fact-finding campaign that highlighted how these changes would impact moderators who try to keep the site's users safe and researchers who rely on the data to advance science. While Reddit did not make direct changes based on this work, these efforts helped frame the public's understanding of the issue through media exposure (I was quoted in over 1,000 articles on the topic). My work also has policy implications. As federal and international policymakers are beginning to think about mandating data access, my research has provided insight into how we can make sure that people, like community moderators and researchers, can access the data they need while also protecting the people who contribute it.
What does receiving a Postdoc Achievement Award mean to you?
When I was a teenager I read a short story by a local author, Budge Wilson, called "Be-ers and Do-ers." The story was about a kid who was way more interested in looking at the stars than doing his math homework. He was a be-er and I related (except instead of stars, it's online communities). There's a lot of pressure to be a do-er, especially in academia, so I often feel like I don't quite fit. To be recognized through an award without having to change how I approach problems or seek to enable positive change is deeply rewarding.
What hobbies or activities do you enjoy in your spare time?
I like to go outside and explore the state with my husband and my dog.
I like to stay inside and cook, do crossword puzzles, and moderate online communities.
Why did you choose Cornell?
Across all of my studies on ethical social media data use, one theme has emerged more strongly than all the others: the importance of awareness in building trust between researchers and the public. One of the most direct ways of doing this is through collaboration, which has the added bonus of doing research that matters to people and that positively impacts their lives. The Citizens and Technology (CAT) Lab at Cornell is highly innovative in how it collaborates with communities, from agenda building, to sharing and discussing findings with communities to contextualize results, to developing new software systems that support ethical research processes. I chose CAT Lab to learn about how to make quantitative research processes more equitable and contribute my expertise in collaborative qualitative methods.
What is next for you?
To continue my work at CAT Lab as its research director.
Do you have any advice for current graduate students?
When you can take a break, do it. The world needs you to not burn out.