Postdoc Spotlight: Sarah Lower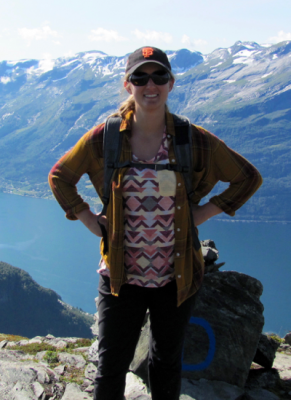 Sarah Lower is featured as part of Cornell's Postdoc Appreciation Week 2017.
What is your area of emphasis? Why is this work important?
I study short repetitive DNA sequences, called satellite DNA, that make up a substantial portion of most genomes, including ours. Satellites show a lot of variation in both their DNA sequence and abundance in the genomes of organisms, though how they change and what functions they perform remain largely unknown. Understanding how and why satellites change over time is important because they are associated with human diseases such as cancer and premature aging. As an evolutionary biologist, I am particularly excited to study these mysterious parts of the genome because they may be involved in the formation of new species.
What inspired you to choose your field of study?
I sort of fell into evolutionary biology. Other people may have very direct paths to their chosen career, but my path meandered. Originally I thought I would be an educator, or an opera singer, actress, or choir director, but, when it came down to it, I couldn't stay away from biology. I applied to genetics graduate programs because I thought studying genetics would be hard, but I wasn't yet sure what I wanted to study. I was fortunate to end up at the University of Georgia as part of the first-year cohort of Interdisciplinary Life Sciences students. ILS gave me the amazing opportunity to take classes and rotate in labs across six departments. I found evolutionary biology happening in all of them. I had found my niche.
How has your background influenced your scholarship?
Maybe because of my performance background, I am passionate about science communication, be it in an academic setting, a public presentation, or at dinner with my parents. I don't think science stops at the bench. I've had amazing opportunities to work on documentaries with David Attenborough and National Geographic through my graduate research on firefly flash signal evolution.
What else has influenced your thinking as a researcher or scholar?
My advisors and mentors. My colleagues. My mentees and students make me think about the process of science and how to guide someone from novice to expert.
What other hobbies or activities do you enjoy in your spare time?
In my spare time I love cooking and baking. I'm working on my food presentation skills. I hike miles and miles with my spouse and my dog. He's a border collie/Australian shepherd mix (the dog, not the spouse), so he is impossible to exhaust. I am also making my way through the list of Hugo Award-winning books.
Why did you choose Cornell?
I chose Cornell so I could work with my mentors, Daniel Barbash and Andrew Clark, in the Department of Molecular Biology and Genetics. Since I've been here, I've found it an amazing, diverse place where I am constantly learning new things. There are so many opportunities for professional development, from the incredible seminar speakers across departments, to the bioinformatics workshops offered by the Institute of Biotechnology, to the leadership workshops and job search lunches coordinated by the Office of Postdoctoral Studies. I've been particularly impressed with the many options to improve my teaching and mentoring through workshops in inclusive and evidence-based teaching from the Center for the Integration of Research, Teaching and Learning (CIRTL at Cornell). And Ithaca is a beautiful place for adventuring!
What's next for you?
I recently won an NIH NRSA Fellowship to continue my research here for two more years. After that it will be the job hunt.
Do you have any advice for current graduate students?
Be persistent. Practice resilience. Setbacks can also be opportunities.
Seek out opportunities for healthy living. I wish I had sought help to develop strategies for mental health earlier in my graduate career.
Get to know people. I've had the opportunities I've had mostly because I've chatted with folks at meetings or after seminars and kept in touch.
Have fun. You will look back on these days as "golden."
Interview by Sally Kral, communications and outreach assistant in the Graduate School